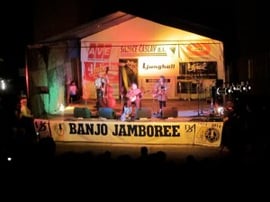 Hall of Fame member, Eddie Adcock and his wife Martha recently toured Germany and the Czech Republic with a Classic Goodtime 2 banjo for his performing instrument.
While Eddie is best known for his music played on Deering's Golden Era banjo, he contacted Deering for a Goodtime 2 Classic banjo for his recent European tour because of its ease
of portability combined with good performing qualities.Eddie, who is a banjo virtuoso who knows all about good banjo sound, has been a longtime supporter of the Goodtime
Banjo.
Many of you may remember that Eddie underwent open brain surgery for hand tremors…a
nd he played his Goodtime openback during the operation to help the doctor's
check to see if they were in the right regions of the brain to help his condition. So, from the operating room to the Czech Republic, Eddie proves that anyone, ANYWHERE, can h
ave a Goodtime!