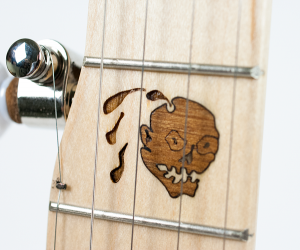 Inspired by the movie "Zombieland" featuring Woody Harrelson whose character at one point uses a banjo to fight off Zombies, Greg Deering created the latest 5-string Goodtime banjo - the Zombie Killer Goodtime banjo. Launched at the 2013 Anaheim NAMM (National Association of Music Merchandisers) Trade Show, the Zombie Killer banjo was a hit with general attendees and dealers alike. With a "blood splatter" resonator finish and a "saw blade-edged" brilliant red flange made with a cut-out zombie-themed pattern to match the fingerboard inlays, the Zombie Killer captures the attention of the audience without even strumming a note.
Be prepared for the Zombie Apocalypse and protect yourself with a Zombie Killer banjo!
The Zombie Killer is available now at authorized Deering dealers or factory direct.