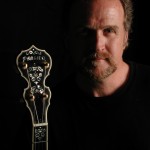 "I could not imagine my life without my banjo and the music I make with it...it is like oxygen to me." Mark Johnson
Mark Johnson, the Father of "Clawgrass" is the 2012 winner of the Steve Martin Award for Banjo Excellence. The letter from the selection committee states he received the award for his "contribution to banjo artistry, innovation and popularization" of the 5-string banjo. The committee members are J.D. Crowe, Pete Wernick, Tony Trischka, Alison Brown, Neil V. Rosenberg, Bela Fleck, Steve Martin, and Anne Stringfield.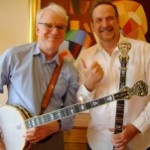 Mark received a bronze sculpture made by noted artist Eric Fischl and an unrestricted monetary award funded by the Steve Martin Charitable Foundation. The award goes on to state "The recipient is a person or group who has given us a fresh appreciation of this (5-string banjo/bluegrass) music through artistry, composition, innovation, and preservation." Congratulations to Mark from all of us at Deering. Mark has shared the story of his journey to this momentous time in his life. Understanding the journey will help us appreciate even more the current acknowledgment of his dedication to music and the banjo.
Mark Johnson's banjo music is imbued with pure feeling, genuine emotion. He coaxes out of this instrument of wood and metal melodies that transport us to historical battlefields, red-clay landscapes, soft flowing mountain creeks, and cold frosty mornings. It is no wonder that the Dodge/Chrysler Automotive Company chose his version of "Down to the River to Pray" as the background music to its 2012 TV campaign showing families on the road throughout America. It is the flow of heart-felt emotions that we hear in each note and brush of the strings on the custom "Clawgrass" Deering banjo that he plays. "From my musical beginnings I felt that my sound and my music became my own private way to express what I could not say in words. My banjo was my compass and my vector."
Mark was born in Manhattan, NYC and raised in the Yorktown Heights/Garrison/Cold Spring area of the Hudson Valley near the US Military Academy at West Point, NY. He worked a paper route off of his bicycle, saving up his wages to purchase his first banjo back in 1970. He shares this common experience with Greg Deering who used his month's wages as a paper boy to buy his first Harmony banjo too. "My Mother helped me buy my first banjo which was an old Harmony Banjo with the old "Bake-A-Lite" "tone rim….Ha! I played that banjo into the ground."
It was while he was working in Greeley, CO, in 1975 that he saved two weeks of hard earned wages to see a show at the University of Northern Colorado featuring John Prine, John Hartford, and Steve Martin. "It was an amazing show with both John Hartford and Steve Martin playing their music on their banjos……but it was when Steve Martin stepped up to the microphone with his old Gibson RB-180 open back banjo and frailed "Loch Loman" that I was absolutely taken with that powerful sound and beauty that he got out of that banjo."
Thanks to the efforts of his mother, Mark was able to find his first teachers, Jay Unger and John Cohen. "Back in Garrison, NY at the age of 15, I took my first banjo lessons from the great NY Fiddler, Jay Unger and John Cohen of the New Lost City Ramblers… I was collecting Flatt & Scruggs LP's and when I met those guys, I asked them if they could teach me how to play like Flatt and Scruggs …..And like "that kid" in the newly released movie "Deliverance". It wasn't until many years later that I learned that it was the great Eric Weisberg who actually performed the soundtrack banjo music that I liked so much. After they let me finish my request, Jay informed me gently that he did not play that style of banjo but he could teach me another style called "frailing" banjo. I jumped at it because I loved the sound of the banjo anyway I could get it. (I later taught myself Clawhammer and Scruggs Style) There were 8 lessons for $40.00 bucks…….I made the first 5 lessons ….and then Mom grounded me for getting in trouble with her new 1971 two door coupe Buick Le Sabre with the 454 CC engine under the hood! I was under age when I got caught driving it!"
Musical inspiration comes through many channels and Mark's early musical heroes came from a wide variety of genres. He cites " Anything and everything that the Byrds did, (Roger McGuinn played banjo!), Pete Seeger, ( he lived in my area and his version of "Coal Creek March" stunned me), Joel Mabus, Taj Mahal, (Colored Aristocracy), Bill Keith, Jay Unger(Ground Hog), John Hartford (Steam Powered Aereo Plane),Courtney Johnson, New Grass Revival, "The Green Album 1971", David Holt, Tony Trischka, Steve Martin,… and most important, Earl Scruggs." But his ability to express emotion in his music came through his next teachers, "I met, and was taken under the musical wings of the great guitar player Mr. Tony Rice and his brothers Larry, Ronnie and Wyatt……. That association went on for nine years from 1984 to 1993……It was like lightning hitting a thousand times in one place. My friend, Dave Higgs, NPR Radio Nashville, said 'Mark Johnson was raised by "musical wolves".' …I sometimes think he was right."
In 1994, Mark released his first CD "Clawgrass" with the Rice Brothers and Friends. Tony Rice spent time teaching him the valuable skills of a veteran musician; how to work on stage, work a microphone, and perform in front of large crowds. Tony invited Mark to play with the rest of the group on 6 different occasions. It was during a 1996 performance with the Rice Brothers and Friends at Merlefest in Wilkesboro, NC, that the famous John Hartford came up to him in the back stage area and told him he had found "(his) banjo" Enter Deering Banjo Company! John had been a longtime friend of Janet and Greg Deering. As luck would have it, Janet had a beautiful walnut, gold-plated and engraved "Ivanhoe" openback banjo in the exhibit that year. This would become the banjo that could interpret Mark's singular "Clawgrass" style of playing. It was his second CD with this banjo, titled "Acoustic Rising" that he and Emory Lester were chosen for an IBMA nomination for Instrumental Album of the Year.
No story about Mark would be complete without the mention of his long association with his friend and musical partner, Emory Lester. In Mark's own words:
"Tony Rice introduced me to the Great Banjo Player, Bill Emerson, back in the early 90's and Bill took a great interest in what I was doing. He liked the sound of the two banjos playing together and invited me to come to Virginia to play at a place called Mrs. "B"'s. This is where he introduced me to his mandolin player, Emory Lester. Bill had recently retired from the US Navy and was hired by Pinecastle Records to produce my second album "Bridging the Gap". Bill is accustomed to giving orders in the Navy as he retired as a Master Chief. Bill became a mentor to me and said one day: Mark, I know a mandolin player who writes music very similar to your banjo style. His Name is Emory Lester…..and you will play with him!! He said the same thing to Emory Lester too. We both said "Yes Sir", saluted him and Emory and I have been performing and recording together now for about 12 years now."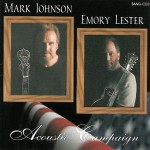 Emory Lester is a highly accomplished musician in his own right on the American music scene. He is a virtuoso mandolin player, accomplished multi-instrumentalist, vocalist, and he plays a very good bluegrass banjo style with great ease. Together, he and Mark bring out the best in each other. As Mark says, "there is nothing we like more than to meet up with our friend and recording engineer, George Hodgkiss in his Blue Ridge Mountain studio up in Browntown, VA, and create the music that we record and perform. I am very fortunate to have him as a musical partner and close friend."
There is a profound relationship between a musician and his audience. Mark learned this in 1975 when he saw the powerful effect Steve Martin's frailing banjo style had on his audience. "When I began to play banjo, I never in a thousand years thought I would have affected anyone in this world. I played for myself to say through music what I could not say in words…" says Mark. Because of his performing, he has come into contact with many other accomplished musicians who urged him to continue what he was doing. Mark goes on to say, "I feel that whatever I have accomplished in my life with my banjo comes from a source much greater than me." Both he and Emory feel a "strong musical connection" with the audience when they perform and "really get a kick out of witnessing how folks react to what they are seeing and hearing."
A man who believes in "giving back", Mark volunteers to play for combat veterans through the Wounded Warrior program. " The most grateful and responsive audiences are when I perform with my friends at the James A. Haley Veterans Hospital in Tampa, FL, for the Wounded Warriors. I get something out of feeling like I am doing my part and "putting back" some of the musical gift that I seem to have. And in that place, everyone loves a banjo!"
The future has never looked brighter for Mark Johnson. He has plans to continue his prolific writing and recording with Emory Lester, increase his touring schedule, teach more at music camps around the country and possibly add private lessons into the mix. Mark loves sharing his "Clawgrass" banjo with everyone and anyone he comes into contact with and has encouraged fellow professional recording and performing artists to play one too. Steve Martin, his early musical hero, can now be counted as one of his friends. Steve now has his own Clawgrass banjo and has invited Mark to his home many times to hang out, pick, and share with him his unique "Clawgrass" banjo playing techniques.
Asked how music and the banjo have changed his life, Mark says, "Well, contrary to all those bad banjo jokes, I am enjoying some fine success as a banjo player! I hold down a long term career job, I have recorded five cd's, I was "discovered" by Tony Rice and recorded with him, my banjo playing has taken me to places I never dreamed of visiting, and meeting people that I never dreamed of meeting and performing with. We went to the Grand Old Opry for our 2007 IBMA nomination for Instrumental Album of the Year, my version of the great old gospel tune "Down to the River to Pray" from that same album, "Acoustic Rising," was used in the 2012 series of Dodge/Chrysler vehicle TV Commercials, Homespun tapes in Woodstock, NY has done a DVD on how to play Clawgrass Style Banjo, Deering Banjos have put into their great line up of banjos, the "Clawgrass" model banjo and I have gotten to know and befriend great banjo players like Bela Fleck, Tony Trischka, David Holt, Ricky Skaggs, Alison Brown, and Steve Martin, to name a few ………all because my Mom, back in 1971, saw something in me, believed in me, helped me buy my first banjo and found for me, my first banjo lessons. She was an amazing person and I miss her so much. "
"I could not imagine my life without my banjo and the music I make with it……..it is like oxygen to me." Mark has made the world a better place by sharing his music with all of us. We are all richer for the experience and can be inspired to follow his example in our own musical journeys.