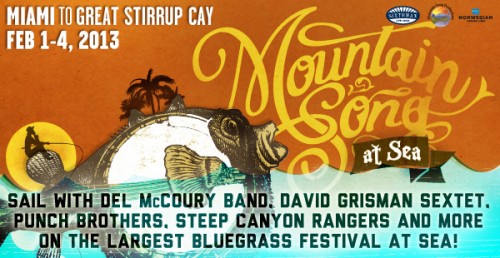 Deering Banjos and Sixthman, industry pioneer of the music festival at sea concept, announces a strategic partnership that combines best in class banjo content and knowledge with Sixthman's newest sea-based music festival,Mountain Song at Sea, to give consumers of both brands an opportunity to experience the best of bluegrass. The partnership will help fans discover The Mountain Song at Sea music festival and give attendees access to Deering Banjo's renowned instruments while sailing to Great Stirrup Cay, Bahamas.
"Participating on the inaugural bluegrass cruise, Mountain Song at Sea, will be our first Cruise for the Deering family. Greg, Jamie and I will be there with an array of our banjos and lots of banjo knowledge to share with everyone. For people who want to learn to play, or banjos that need adjustment we will be there to help." commented Janet Deering. "And for players who want to leave their heirloom banjo home we will have Goodtime banjos that can be rented for the cruise with a special option to buy. Playing the banjo is all about having fun and this cruise is a great opportunity for over the top fun and enjoyment!"
Guests of Mountain Song at Sea will reap the benefits of the partnership while sailing aboard Norwegian Sky. Deering will host several activities on the ship for both artists and guests alike, including "The Banjo Petting Zoo," an all ages experience for guests to sample, jam, play and try out many of Deering's instruments. In addition, Deering will also make instruments available for rental with the option to purchase at a discounted price when the cruise ends. Workshops sponsored by Deering will also be offered to guests sailing on Mountain Song at Sea free of charge.
"Having Deering Banjos on board Mountain Song at Sea feels like a match made in heaven. Not only will they be offering a banjo petting zoo, workshop opportunities, and banjo rentals, but, more importantly, they come with such a rich history of service to this community to say nothing of building some of the finest banjos in the world. We are really excited to have them onboard with us!" said Brian Perry, the community leader forMountain Song at Sea.
In conjunction with Mountain Song Productions, Sixthman's inaugural Mountain Song at Sea will be the company's 49th full ship charter and features an incredible line-up of bluegrass luminaries such as David Grisman, Del McCoury, Larry Keel and Peter Rowan while also showcasing modern standouts in the bluegrass world like The Punch Brothers, Steep Canon Rangers, and Town Mountain.
Scheduled to depart Miami on February 1st, Norwegian Sky sails to the private island destination of Great Stirrup Cay, Bahamas before returning to Miami on February 4th. While onboard, Mountain Song at Sea guests will have experience like no other including performances in intimate venues, spontaneous artist collaborations, jams, and interactions with all the artists traveling with the event. Performers on the ship will host Q&A sessions and other activities like a poker tournament with Steep Canyon Rangers, beer and wine tastings, workshops, and games.
More information about the event can be found at www.mountainsongatsea.com.