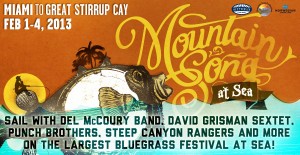 Come aboard with the Deering Banjo Company on the biggest ever Bluegrass festival cruise to the Bahamas from Feb 1-4, 2013! Featuring artists such as The Steep Canyon Rangers, Kruger Brothers, Del McCoury Band, Punch Brothers, David Grisman, and many more.
There's something special that happens when a group of artists who share a passion for their music and a community of like-minded fans gather together to journey aboard one ship. Mountain Song at Sea will offer once in a lifetime experiences that you can't get anywhere else – shows with your favorite artists in a truly unique setting, spontaneous artist collaborations, jams, interactions with artists and through it all the creation of friendships and your own Mountain Song at Sea community. Artists will host Q&A sessions and other activities, like a poker tournament with Steep Canyon Rangers, beer and wine tastings, workshops, games, and more!
Announcement of Goodtime Banjo Rentals for the cruise:
Playing a Goodtime Banjo can also be fun and worry free on Mountain Song at Sea as well. You can now rent a Deering Goodtime Openback banjo with a gig bag to play to your heart's content on this cruise for only $70! This offer is brought to you by the Deering Banjo Company.
Enjoy the workshops and camaraderie of jamming with folks on the open sea. To rent one call the toll free number, 1-800-845-7791, and ask for Carolina Bridges who will help you with your rental. Rental orders must be placed by Jan 15th. You will need a credit card to reserve a banjo and have it waiting for you on board the ship. Your card will be charged at the time you place your order for $70.
Once you board the ship, your contact will be Jamie Deering for both pickup and return of the banjo. The Goodtime banjo by Deering retails for $499 and the embroidered gig bag retails for $97. At the end of the cruise you will have the option to purchase these two and they will be shipped to your home, a $597 value, for only $499! See Jamie Deering on board the ship to complete this.
Some of the highlights that will be happening on board in addition to awesome concerts by the attending bands:
A "Banjo Petting Zoo" where one gets to play and hear a wide variety of Deering banjos.
Greg & Janet Deering will be delivering a banjo workshop together, along with possible surprise Deering Artist cameos, going over the parts of a banjo, how to adjust them to get different sounds, playing tips, and answering all the questions you can think of on banjo.
A Poker Tournament in the casino where you can win prizes. Hosted by Mike Giggino & Nicky Sanders of the Steep Canyon Rangers!
Who could leave out an Artist Q&A! With plenty of bluegrass legends on board, you can spend some time asking them deep and personal questions.
And many more activities you can see here: http://www.mountainsongatsea.com/event/onboard
We look forward to seeing you there! Some cabins are still available to join in this awesome event! You can get your ticket aboard here: http://www.mountainsongatsea.com/
Bon Voyage! From your friends at Deering and Mountain Song at Sea.