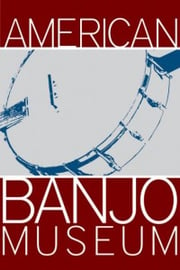 An exciting free program of musical concerts, demonstrations, banjo instruction, jamming and special guest appearances have been organized for the folks who will have the opportunity to visit the launching of the Deering New Traditions Gallery opening at the American Banjo Museum in Oklahoma City, OK, on September 8th. As a special treat, the Deering #BanjoBus, part of the current Mumford and Sons Gentleman of the Road tour will be parked outside the museum on that day as well. The New Traditions Gallery, sponsored by Deering, is focused on the rebirth of the five-string banjo in post WWII America. While the festivities are mainly concentrated on that Sunday, the museum is open free to the public on Friday and Saturday, September 6 and 7.
Guests to the museum will have the opportunity to see a large selection of Deering banjos. Among the most unique is the special long neck "Banjosaurus," a 25-fret long neck banjo loaned to the museum by George Grove of the Kingston Trio. A dinosaur scene spans the entire fingerboard and peghead which took 400 man-hours to complete.
Also included in the display are a Pete Seeger long neck, a Crossfire electric banjo, Deering's 35th Anniversary banjo, a signed John Hartford banjo, the unique Tenbrooks Saratoga Star, an Eagle II custom Mumford banjo, the newest 6-string banjo called the Phoenix, the ever-popular Goodtime banjo, and others. This is a singular opportunity to see a great sampling of the many Deering banjos along with a chance to talk to the manufacturing Deering family themselves!
The scheduled activities are listed below:
Friday & Saturday, September 6th and 7th
The Museum will be open free to the public Friday and Saturday 11am – 6pm.
Sunday, September 8th – Museum hours are 12 pm to 5 pm.
The formal Ceremonial Opening of the New Traditions Gallery will be at 1pm
There will be music & Free Banjo Lessons alternating in the Shakeys Pizza Room from 1-4 pm. Musicians will include the Byron Berline Band, Clark Bueling on his Minstrel Banjo in period costume, Johnny Baier playing Jazz Banjo.
There will be special performances by Harvey Reid on Deering's 6-string banjo located on the first floor of the museum and on the stage located on the upper level stage area. Harvey will be accompanied by his talented wife, Joyce Anderson, on the fiddle.
Visitors to the museum will also have an opportunity to try out the new "Zombie Killer" Goodtime resonator banjo! Kids and adults, alike, are asked to give this fun and unique banjo a try. It's a perfect photo opportunity!!
Look for the Deering #BanjoBus which will be parked in front of the museum. Enjoy great banjo music by one of the talented local musicians.
View American Banjo Museum in a larger map