California here they come! Not only is California the home state for Deering Banjos, but in honor of Mumford and Sons concerts in the Golden State we have created the one of a kind California Goodtime Charity Banjo!
The Auction for this banjo is officially live here as of 6pm, Oct 6th and will run until 6pm, Oct 16th!
Modeled after the Artisan Goodtime Two banjo it has vintage style red marbled pearloid inlays with pristine white shining hardware! The drum head, made by Remo, bears the Mumford & Sons 2016 Tour Wings Logo and is personally signed by the band!
The California bear flag art that has graced our state flag since June 14, 1846 is carefully rendered on the back of the resonator! With a distressed red stain on the wood parts, along with California's iconic shape and name branded into the peghead, this is banjo does the State proud!
Taking it full circle with the auction, the non-profit which will be the beneficiary for it calls Southern California home and has been an instrumental part in promoting music making to people of all ages, and programs to see that music in schools continue at local, state and national levels. This is the NAMM Foundation !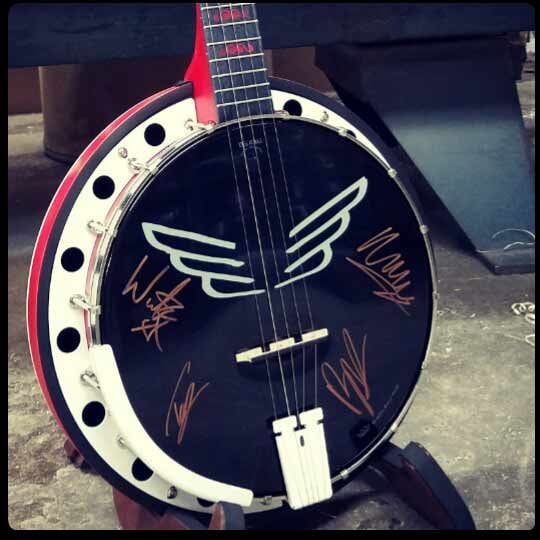 The NAMM Foundation (National Association of Musical Merchants Foundation) works to advance access to music education and active participation in music making across the lifespan by supporting scientific research, philanthropic giving and public service programs. The NAMM Foundation programs include advocacy, music making grants to domestic and international non-profits; research; award recognition for dedicated music programs; professional development programs; and strategic partnerships to advance music making at all levels. Grant recipients of the NAMM Foundation include Mr. Holland's Opus, Little Kids Rock, The John Lennon Educational Tour Bus, the San Diego Youth Symphony and Conservatory, and many others.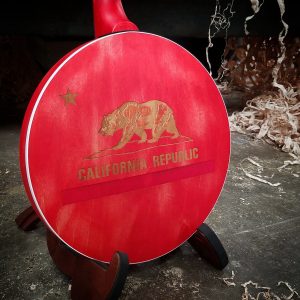 The NAMM Foundation is a non-profit supported in part by the National Association of Music Merchants and its 10,300 members around the world. For more information about The NAMM Foundation, please visit http://www.nammfoundation.org
You can see more photos of this custom banjo and bid here!
Thank you to all who participate and Mumford & Sons for your help in the efforts towards seeing the resources to make music are available to everyone.