Anyone who knows Jamie Deering at all will know that she has been an integral part of Deering Banjo Company from a very young age. She attended her first NAMM trade show when she was just 6 weeks old, as the newborn daughter of Deering Banjos Founders Greg and Janet Deering at NAMM in 1979. Throughout her growing years she worked both production and administrative positions, gaining experience in every aspect of their family company.
Today, nearly 40 years after her first NAMM Show, we have the honor of announcing that Jamie Deering has been appointed to the position of CEO of Deering Banjo Company.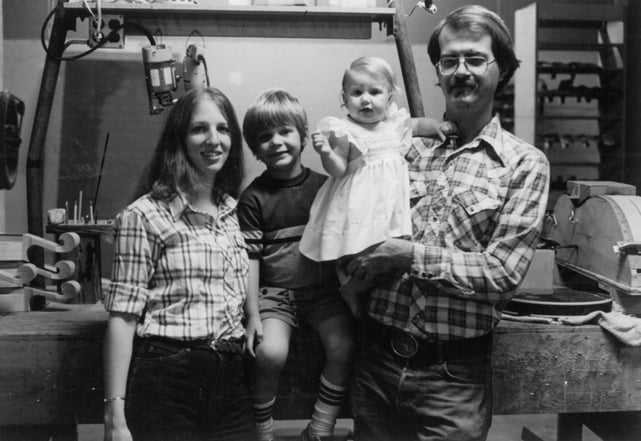 Jamie began working at the Deering shop at an early age, cleaning the bathrooms and taking out the trash. In middle school she assembled banjo drums, punched the Boston flange pieces and holes, and helped organize the files in the office. In high school she worked staining and in-between-coat finish sanding the rims, resonators and many of the crossfires; her dad even taught her to do the pickup system wiring and installation for crossfires; and during that time she was her mother's right hand person at the first summer NAMM Shows held in Nashville, as well as handling banjo sales at the Walnut Valley Festival where the National Banjo Championship takes place every September.
Jamie says of her parents influence, "It is a great honor to have grown up a part of a family company and get to be a contributing part of it. Seeing how hard my folks and their team through the years have worked to make Deering Banjos what it is, has been inspiring. I learned the importance of hard work, doing a good honest job, and the amount of persistence in both the challenging and easy times that you must have in order to succeed. Growing up experiencing the value and fruits of hard work will always be one of the greatest gifts my folks have given me.
While taking on the magnitude of her parents' legacy is a significant part of Jamie's new role, it is the ever-expanding banjo community, and seeing the banjo being used as a catalyst for creativity that motivates her.
"It has been a joy being a part of the banjo community and growing up around the different genres that the banjo has always been a part of. To get to know our artists who have become like family and see their careers grow. And now to see the instrument step out and become a new pallet for other genres to add to their music with. I am excited for the future of Deering Banjos, but especially the banjo as a musical instrument."
As Jamie came of age, she began to take on management roles within the company. In 2010, she managed Artist Relations, which resulted in working with the likes of Dropkick Murphys, The Avett Brothers and of course, Mumford & Sons; a relationship that blossomed into a significant charitable effort, helping to raise over $215,000 under Jamie's guidance.
More recently in 2017, Jamie accepted the position of VP Public Relations, which ultimately led to her being named CEO of Deering Banjo Co, which, as Jamie explains has been a while in the making.
"Taking on this role has been a process of learning, and over the last year gradually taking on aspects of it. My view is looking at the next 20 years of Deering with a vision in the direction of streamlining our processes, and towards even greater efficiency to the benefit of all who work at Deering, and all our current and future customers."
"We have the mission as a company: to champion the banjo and inspire freedom of creativity around the globe by supplying the best quality, American made banjos available to players of all abilities. This, and our company values will not change and are stronger than ever. Our efficiency and ease in how we accomplish it will be a larger focus. We are more than a company that builds banjos. We are a company made up of people who are passionate about taking care of our customers. We take great pleasure in seeing the cultural and emotional uplift that music brings to individuals and communities and are proud to do our part in that through the banjos we make."
Jamie Deering took the lead role in creating the Julia Belle model collaborating with Grammy Award winning Alison Brown and Greg Deering in designing this model and worked closely with the Deering marketing team to launch it to the world. She has been instrumental in bringing on many new artists such as Alison Brown, Elle King, Ashley Campbell, Morat, Judah & the Lion, American Authors, Flogging Molly and many others.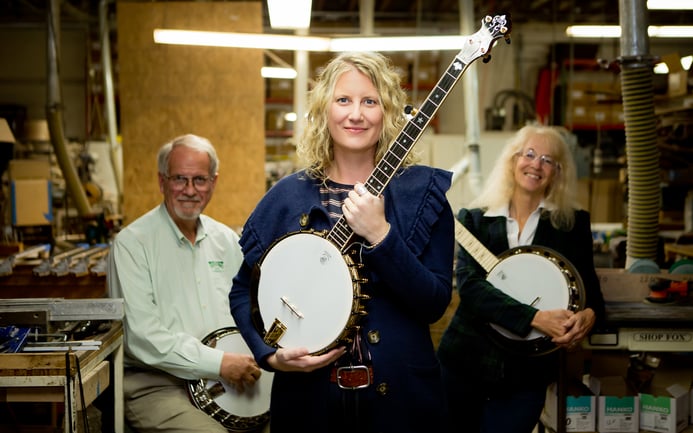 Jamie, as many of you know is accepting a position that has been held by her mother, Janet for 44 years. Janet will be enjoying more flexibility, focusing on her role as co-Founder along with Greg Deering. She will continue to be a valuable mentor for the Executive Team. She welcomes Jamie's new role and the freedom to work on new projects with Greg. Long since heading up the area of Research & Development at Deering, Greg remains an active part in the company with Janet as co-Founders.
Jamie's father, Greg Deering commented "We are delighted and very excited to have Jamie become the CEO of Deering Banjo Company, to take it into the next generation. While Janet and I have accomplished a lot in 44 years, Jamie, if anything, has more horsepower and is smarter than we are. She has stellar people and communication skills. Deering Banjo Company will see a wonderful and expanded banjo world with Jamie as our CEO."
Jamie is supported by an Executive Team consisting of Jamie Latty, the VP of Administration and Chad Kopotic, the VP of Operations. The three members of the Deering Executive Team work closely together on bringing new banjo models and streamlining processes to improve existing banjo models, all geared towards creating an outstanding customer experience.
Jamie Latty has been with Deering since 2010 and quickly moved up the ranks to become one of their top execs. In this role he is at the helm of Sales, Marketing and Customer Service. British born, Jamie has spent the past 14 years in musical instruments, beginning his career in the Service Department at Fender's UK offices, before moving into Sales and Marketing with Fender Europe, where he handled international distribution for all Fender brands, as well as Taylor Guitars. After meeting his wife, Jamie moved to San Diego in 2011 where he has spent the last 9 years working alongside Jamie Deering, under the guidance of Deering founders, Greg and Janet Deering.
As Latty shares "This is truly an exciting time. Jamie [Deering] has proven already that she brings a more progressive vision to Deering's leadership, offering exciting ideas, all the while upholding the legacy that her parents built over the last 45 years. Jamie, Chad and myself work really well together, and we intend to focus the next year realigning, becoming more efficient as a company, offering even better value to our customers and making sure that we live up to being the great American banjo company in every way."
Meanwhile, Chad Kopotic, a Deering veteran and Master Craftsman on the team holds the position of Deering VP Operations. Having personally worked in every area of production over his career at Deering he is now the expert overseeing all manufacturing processes as well as new and custom product design. Chad headed up the design of the Goodtime Artisan Series, as well as the new Winston Marshall Signature Model and Mumford & Sons GOTR Goodtime Banjo. He has worked closely under Greg for many years learning manufacturing and design work and is an integral part of the team taking Deering into the future.
As Chad puts it "I've been part of the Deering Banjo family for 23 years and really look forward to what the future holds with Jamie Deering taking over as CEO. It's awesome to see the business that Greg and Janet started continuing under the Deering name. She shares the same vision that started this company, of striving to bring the versatility of the banjo into every genre of music. I'm excited to be part of the team that will work directly with Jamie to continue making instruments that bring music to life."
As we look to the future of Deering banjos, a new chapter has begun, perfectly summed up by Janet, who reminds us that "having a thriving family business has been our goal and making banjos in America while being a part of the backbone of industry in the USA is also key to who we are as a company. We are proud to have Jamie carry this mission forward. I have confidence in her abilities and that of our Executive Team. Deering Banjos will continue to spread the gospel of banjos and the joy of playing music on the banjo around the world."
Please join us in congratulating Jamie on her new position.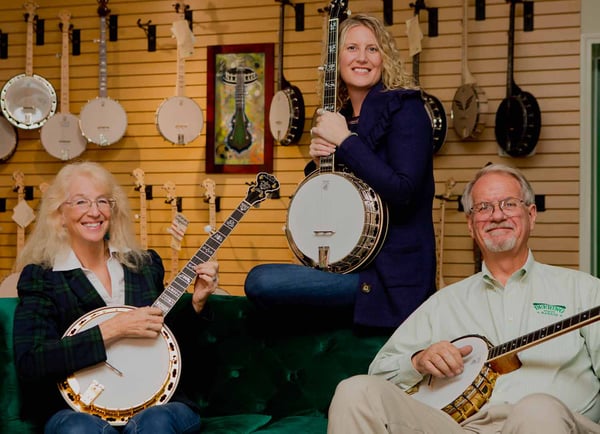 Photos by: Heather Sali Photography