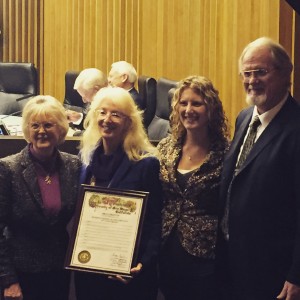 March 3rd, 2015 has officially been declared Deering Banjo Company Day throughout San Diego County. Bill Horn, Chairman of the Board of Supervisors, and all of the County Board of Supervisors of San Diego honored Janet, Greg, and Jamie Deering for the 40th Anniversary of the Deering Banjo Company at their Board of Supervisors meeting. Supervisor Dianne Jacob presented the Deering family with a proclamation that honored them as the founders of "a small family-run business (that) through hard work, passion, and attention to detail has grown into one of the world's leading banjo manufacturers."
The proclamation acknowledges the Deering Banjo Company for holding 5 patents for banjo manufacturing, having built over 100,000 banjos in their history as a company, and for including such notable artists as Taylor Swift, Mumford and Sons, Eric Church, and Steve Martin among those performing with their banjos.
Deering Banjo Company was founded in 1975 as the world's specialist in banjos and has grown to become the largest manufacturer of American made banjos in the world. Located in Spring Valley, CA, Deering produces all of its quality 4-string, 5-string, 6-string, and 12-string banjos in the same US facility and boasts the most knowledgeable team in the industry. Always on the cutting edge of banjo innovation, Deering is proud to have artists such as Mumford and Sons, Steve Martin, Taylor Swift, Bela Fleck, Kacey Musgraves, Keith Urban, the Avett Brothers, Jens Kruger, Dropkick Murphys, and many more play their banjos. Visit www.deeringbanjos.com to learn more about Deering Banjos or call their toll free number 800-845-7791.