The Deering family will be in the UK for Banjo 2020 - the 13th Annual Banjo Event with our dear friends and banjo experts at Eagle Music Shop in Huddersfield, England! This takes place on Saturday March 7th, 2020 at 'The North Light Gallery' which is situated just behind Eagle Music Shop, Brooke's Mill, Armitage Bridge, Huddersfield, HD4 7NR.

This is an all-day event packed with world class music including the best of American and Irish styles, jam sessions, performances, various banjo workshops and a masterclass 'on-stage' workshop from the Kruger Brothers!
Joining in the festivities as a performer this year is Gayle Skidmore. This will be her first ever performance in the Huddersfield area.
The day is topped off with a intimate evening concert from the incomparable Kruger Brothers!
Secure your spot for this year's festivities soon!


The Eagle Music Shop will offer you the opportunity to browse the largest selection of Deering Banjos ever to be displayed for public viewing and test driving! From every form of Goodtime Banjo to an incredible array of Deering, Tenbrooks, and Vega upper line models.

Greg, Janet & Jamie Deering will be in attendance throughout the day to meet and greet everyone. As in past years, Greg will host his "banjo set-up table" where he will be delighted to meet you and personally check over and set up your banjo for free.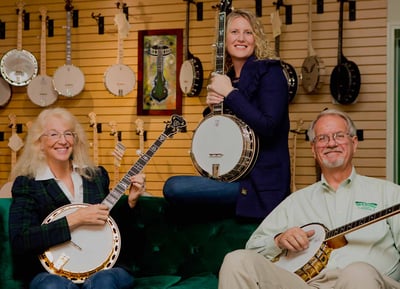 You will also have the special opportunity to interact and personally meet the professional musicians of the day.
The general outline for Banjo 2020 is:
Doors Open 10:30am with the world's largest array of Deering Banjos available to see, test drive and possibly take home.
Afternoon Workshops & On-Stage performances
Afternoon Kruger Brothers On-stage workshop where they will talk you through how they put their awesome music together and perform it on stage.
Audience group performance with the Kruger Brothers. Everyone is welcomed on stage to play a group jam for this. This years tune back by popular request will be 'Cripple Creek' in the key of 'G' Major
Picking sessions
Eagle Music Trade Stand with lots of special price offers in celebration of "Banjo 2020"!
Sons Of The North Cafe offering a wide range of food and refreshments available for purchase throughout the day
Eagle Music Raffle with amazing instrument Prizes
Eagle Music Shop Customer of The Year Presentation
Evening Concert with the Kruger Brothers + Support act Tilterwheel
Performers, workshop teachers and special guests in attendance throughout the day include:
Phrase & Fable (Maria Wallace & Phil Stott) based in Yorkshire, will perform a mix of mellow Americana and folk classics, upbeat traditional bluegrass standards and fine original songs, with some great harmony singing. They will be part of the afternoon performances.
Jonny Hulme – 5-String Banjo Masterclass – Tips and Techniques for all Levels' – Ticket Entrance Only £6 – Private Room Group Workshop. Jonny is highly regarded in the UK as one of the most experienced, versatile, and creative banjo players of the modern era.
Pat Kelleher will host his 'Long Neck Banjo' table and be available throughout the day to give you his best advice on all aspects of performing and playing Long Neck Banjos.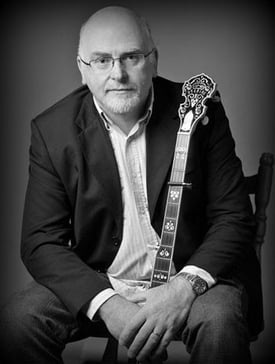 Joe 'The Old Grey Dog' Mac and Bill 'Saratoga Star' Forster will carry on their long-time role of running the picking sessions throughout the day.
Howard aka 'Shep' Shepherd aka 'Mr. Plectrum Banjo' will be around to mingle with visitors, tell his amazing banjo stories and give banjo advice where you may ask him for it!
Matt Chaffer A key member of the Eagle Music team, and also a part time gigging musician. Matt will deliver a workshop demonstrating the different types of Accessories that are available for Banjo, Mandolin and Guitar musicians and the care of your instruments.
Gayle Skidmore will be performing in the afternoon. She is an award winning American singer-songwriter, musician, composer, and multi-instrumentalist from San Diego, California. She has written over 2000 songs and toured worldwide.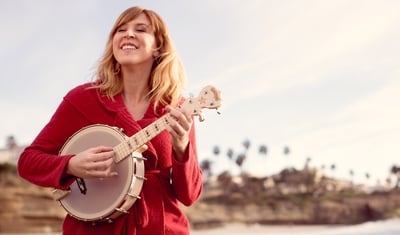 Tilterwheel are the Evening Concert Support Artists! Playing Americana, bluegrass, swing, Celtic, and lots more! Jonny Hulme 5-string banjo ace and singer, Simon Brady Mandolin, Guitar Vocals Cliff Woodworth Fiddle, Guitar Vocals and Ray Walmsley Double Bass.
Kruger Brothers are the day's feature performers. Jens Kruger (banjo and vocals), Uwe Kruger (guitar and lead vocals), and Joel Landsberg (bass and vocals) – The Kruger Brothers personify the spirit of exploration and innovation that forms the core of the American musical tradition. Their original music is crafted around their discerning taste, and the result is unpretentious, cultivated, and delightfully fresh. Jens Kruger today is revered as one of the top banjo virtuosos of all time.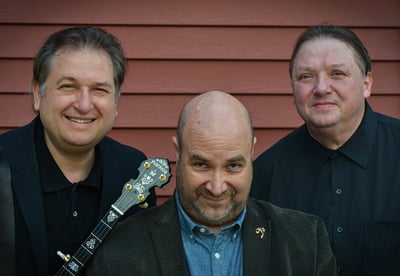 All of this for only £55, including an intimate evening Kruger Brothers Concert!



We look forward to celebrating Banjo 2020 with you!