Bid For a One of a Kind Banjo Signed By Mumford and Sons - and Help Support a Good Cause
Deering Banjo Company is thrilled to announce the launch of the Lewes Gentlemen of the Road Banjo Charity Auction featuring the first of five truly unique banjos signed by Mumford & Sons.
In 2012 Mumford & Sons began the Gentlemen of the Road Stopovers, a global series of events in small cities and towns around the world. The vision was to create a music festival that celebrates local people, food, and culture, where everyone pitches in and everybody gets something back. It is in this spirit that Deering Banjos was inspired to create something truly special. Deering has created five one of a kind Gentlemen of the Road Banjos - one for each Stopover - signed by all four members of the band. The banjos will be auctioned off with all proceeds going to a charity of the bands choice that best compliments each Stopover location.
The first stop on the 2013 Gentlemen of the Road tour is Lewes, UK near the coastal town of Brighton. The Lewes Stopover kicks off on Friday July 19th with performances from British favorites Vampire Weekend, British Sea Power amongst others. The show continues on Saturday afternoon as Mumford & Sons' anticipated headline slot is supported by performances from The Mystery Jets, Edward Sharpe & the Magnetic Zeros, Deap Vally among others. All bands have been hand picked by Mumford & Sons to perform at the event.
The Lewes Gentlemen of The Road banjo is crafted with a hard rock American maple neck, a violin grade maple rim and matching resonator, all brought together with a stunning Old Fashioned Honey finish. The banjo is remarkably light, weighing only 5 ½ pounds each; about the same as an acoustic guitar. The drum head features the Lewes Stopover design of crossed swords over a flame capturing Lewes' long history of battles, (including the Battle of Lewes in 1264) and the towns love for their annual Guy Fawkes Night, the largest event of its kind in the UK. In addition, the peghead features the now iconic Gentleman of the Road "Willis" head proudly burned into the wood with the date of the Stopover underneath! The banjo is American made, right down to the custom banjo head made by Remo Drums in California. As part of this auction the GOTR Banjo will also come with a Deering branded Gig Bag.
The charity of choice for the Lewes Stopover is Oyster Project (Reg. UK Charity: 1132007), a Lewes based charity that was founded and is run by disabled people. Oyster Projects unique approach to self-help means that they do not rely on volunteers, but more on each other, learning to re-assess their expectations and develop their aspirations. It is all about taking part, working together and making things happen. Activities are organised by members and friends with an emphasis on empowerment and involvement for disabled people of all ages. Initiating work-like projects and focus on gaining skills and knowledge. To learn more about Oyster Project, please visithttp://www.oysterproject.org.uk.
This auction will go live Sunday July 14th and run until July 21st. 7 days to raise as much as we can for a good cause and bring home a one of a kind Deering Gentlemen of the Road Banjo for Lewes, UK signed by Mumford & Sons!
The remaining auctions will take place coinciding with the dates of each individual Stopover. Stay up with all the auction news and info here http://www.deeringbanjos.com/gentlemen-of-the-road-banjo-auction.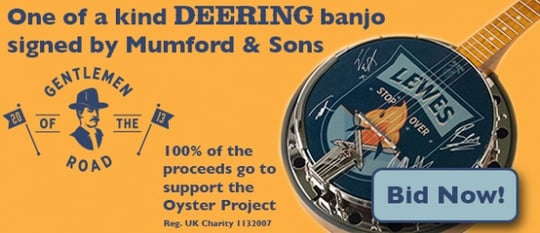 About the Deering Banjo Company:
Deering Banjo Company was founded in 1975 as the world's specialist in banjos and has grown to become the largest manufacturer of American made banjos in the world. Located in Spring Valley, CA, Deering produces all of its quality 4-string, 5-string, 6-string, and 12-string banjos in the same U.S. facility and boasts the most knowledgeable team in the industry. Always on the cutting edge of banjo innovation, Deering is proud to have artists such as Bela Fleck, Mumford & Sons, Steve Martin, Taylor Swift, Keith Urban, The Avett Brothers, and Dropkick Murphys play their banjos. Visit http://www.deeringbanjos.com to learn more about Deering Banjos or call their toll free number 800-845-7791.
About Mumford & Sons:
Mumford & Sons are an English folk rock band formed in December 2007. Emerging from West London they have since taken the world by storm producing world number one hit singles and a number of award nominations including in 2013 winning both the Album of The Year Grammy Award for 'Babel' and a Brit Award for the Best British Group. Mumford & Sons is made up of 4 talented multi-instrumentalists: Marcus Mumford (lead vocals, guitar, drums, mandolin), Ben Lovett (vocals, keyboards, accordion, drums), Winston Marshall (vocals, banjo, guitar, resonator guitar) and Ted Dwane (vocals, string bass, drums, guitar).
More information about Mumford & Sons or the Gentlemen of the Road Tour can be found here:http://www.mumfordandsons.com/home/ , http://www.gentlemenoftheroad.com/stopovers/.