The next Gentlemen of The Road Stopover this summer in the idyllic Midwestern town of Waverly, Iowa is upon us. Happening this Friday and Saturday June 19th-20th! And we are proud to bring you the Waverly Charity Banjo! You can learn more about the Gentlemen of The Road Charity Banjos campaign and bid here www.GOTRauction.com
Mumford & Sons with the Waverly Charity Banjo!
The Charity chosen by collaboration between Deering, Mumford & Sons and the town of Waverly, Iowa is Waverly-Shell Rock Area United Way. Their mission is to improve lives and strengthen communities through securing funds and promoting services for youth, elderly, and those in need. It is a system based on the principal that united, we are stronger than we can ever be alone. their giving back includes fundraising for United Way partner agencies, educating the community regarding the community needs, operating a volunteer center and supporting the United Way 2-1-1 crisis phone number. United Way is one of the best vehicles to build strong communities and help people who are in need. The Waverly-Shell Rock Area United Way was conceived by a group of Waverly community leaders in 1950 and we are proud to have them be the beneficiary of the one of a kind GOTR Waverly, Iowa Charity Banjo Auction!
You can find out more about Waverly-Shell Rock Area United Way here: http://www.wsrunitedway.org/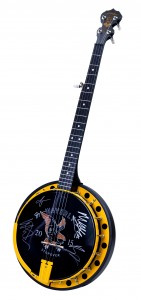 The Waverly Gentlemen of The Road banjo is crafted with a hard rock American maple neck, a violin grade maple rim and matching resonator, all brought together with a true black finish, and accented with a vibrant Sunflower Yellow plating. The banjo is remarkably light, weighing only 5 ½ pounds each; about the same as an acoustic guitar. The drum head features the Waverly Stopover art of a wild hawk in flight, which embodies the Midwestern culture of the area! In addition, the peghead bears the now iconic Gentleman of the Road "Willis" head with his new 2015 style, proudly branded into the wood with the date of the Stopover underneath! The banjo is American made, right down to the custom banjo head made by Remo Drums in California. As part of this auction the GOTR Banjo will also come with a Deering Gig Bag.
This auction is live as of Wednesday June 17th and will run until June 23rd. Eight days to raise as much as we can for a good cause and bring home a one of a kind Deering Gentlemen of the Road Banjo for Waverly, IA signed by Mumford & Sons! The remaining auctions will take place coinciding with the dates of each individual Stopover. You can bid on this one of a kind banjo here!
By Jamie Deering