Deering Banjos is thrilled to announce the launch of the 2015 Gentlemen of the Road Banjo Charity Auctions. In 2012 Mumford & Sons began the Gentlemen of the Road Stopovers, a global series of events in small cities and towns around the world. The vision was to create a music festival that celebrates local people, food, and culture, where everyone pitches in and everybody gets something back. It is in this spirit that Deering Banjos was inspired to create something truly special. Deering has created five one of a kind Gentlemen of the Road Banjos – one for each Stopover – signed by all four members of the band. The banjos will be auctioned off with proceeds going to a charity of the bands choice that best compliments each Stopover location.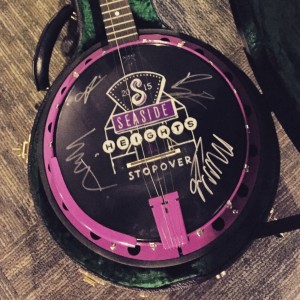 The charity chosen for the first Stopover, by collaboration between Deering, Mumford & Sons and the town of Seaside Heights is Big Brothers Big Sisters of Ocean County. Their vision statement says it all: "That all children achieve success in life". National research has shown that the positive relationships between youth and their Big Brothers and Big Sisters have direct and measurable impact on the children´s lives. With a mission to provide children facing adversity with strong and enduring, professionally supported one-to-one relationships that change their lives for the better, forever, Big Brothers Big Sisters is a life changing preventive program. It ultimately reduces the need for possible future juvenile justice and school disciplinary intervention when the child is older and/or becomes an adult. Big Brothers Big Sisters of Ocean County was founded in 1997 by a group of community volunteers concerned about at-risk youth in Ocean County. Big Brothers Big Sisters of Ocean County is a not-for-profit youth agency, an affiliate of Big Brothers Big Sisters of America. In the 17-year history of BBBSOC, all of the children in their program have finished high school and continued their educations in college or trade school, often despite considerable odds. Their program is making a difference in Seaside Heights, NJ and their whole region of Ocean County!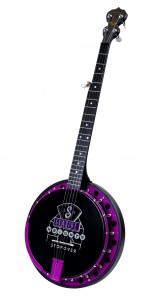 The Seaside Heights Gentlemen of The Road banjo is crafted with a hard rock American maple neck, a violin grade maple rim, all brought together with a true black finish, and accented with the vibrant purple of the Seaside Heights Stopover. The banjo is remarkably light, weighing only 5 ½ pounds each; about the same as an acoustic guitar. The drum head features the Seaside Heights Stopover design paying homage to Seaside's long history of its amusement-oriented boardwalk and being known as ʺYour Home for Family Fun Since 1913!ʺ. The peghead features the now iconic Gentleman of the Road "Willis" with his new 2015 style, proudly burned into the wood with the date of the Stopover underneath! The banjo is American made, right down to the custom banjo head made by Remo Drums in California.
This auction is live as of Wednesday evening, June 3rd and run until June 10th. Eight days to raise as much as we can for a good cause and bring home a one of a kind Deering Gentlemen of the Road Banjo for Seaside Heights, NJ signed by Mumford & Sons! The remaining auctions will take place coinciding with the dates of each individual Stopover. You can bid on these items, and stay up with all the auction news and info here: www.GOTRauction.com