It all started with Greg and Janet Deering's friendship with John Hartford, a friendship that began over 30 years ago when Greg worked with John to design and build his first signature Hartford Model banjo. John's Deering low banjo was an iconic part of his sound for many years and was an inspiration for many banjo players. Alison was one of those inspired by John's unique voice on the banjo. As a proud owner of John's prototype Deering low banjo, a long time friend of the Hartford family, as well as a fellow San Diegan, it seemed fitting for Alison to reach out to the Deerings to collaborate on an updated version of John's original low banjo.
The new Julia Belle Banjo is a testament not only to Alison's friendship with John, but also to his music and his art. John actually attended art school and over the course of his life made countless sketches of the things that he loved including the riverboats which fascinated him. The Hartford family graciously gave Alison permission to peruse their personal collection of his sketches, allowing her to choose the images that spoke to her. As she poured over John's drawings, the design concept for the new banjo took shape.
When Alison discovered John's enigmatic sketch of a woman in a flowing dress she knew the new banjo needed to be called the Julia Belle. The mysterious, faceless lady fits perfectly on the peghead and has been brought to life with with flowing copper hairand an elegant blue dress. John's sketch of Captain Trone, the captain of the famous Mississippi riverboat The JuliaBelle Swain and the man who taught John to pilot the paddlewheeler, adorns the third fret and an inlay based on an original pattern from the now famous riverboat adorns the rear of the peghead and also frames Alison's signature. One of John's riverboat sketches is inlayed at the 12th fret and, at the 22nd fret, the name Julia Belle is immortalized in John's own handwriting.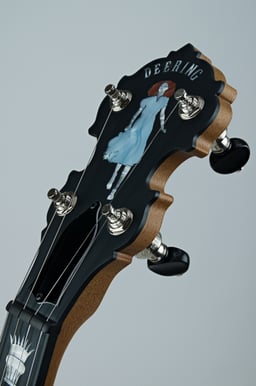 Tonally, the Julia Belle is specifically designed to shine when played in lower tunings such as E or D, though she does sound wonderful when played in standard G tuning. She is made of mahogany which brings out a beautiful warmth, and also boasts a radiused fingerboard and a brand new head design by D'Addario that recreates the fat, full tones of the original 5 Star heads. This head is a bit thicker than a standard head and that helps to bring out the deeper tones that Alison loves in a banjo.
"I love my banjos to sound as warm and full as possible. I think that tone tends to draw people in, particularly folks who are not that familiar with the banjo or are put off by the traditional bright, poppy bluegrass banjo sound," she explains.
Alison's preferred string gauges for The Julia Belle (12 14 20w 24w 12) reveal a banjo with a brilliant tone that is complimented by an underlying depth and body that is irresistible. In a twist to John's original banjo, Alison also opted for two extra frets with an overhanging fingerboard, giving the player two octaves and a whole new playing field!
"In my opinion, there's nothing like a low banjo to open up a player's creativity. The low resonance gives the banjo a solo voice that is so comfortable and inspiring to play that I find myself reaching for it often to play around the house. It's a great tool in band settings and in the studio too, especially when you need to play in D, E or F but really want to hear the open sound of a G roll."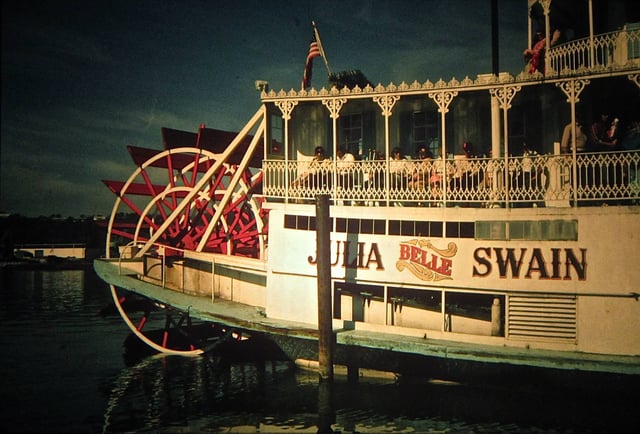 What is the story behind her name?
The Julia Belle Swain is a steam-powered riverboat steeped in history. She was originally designed and built in 1971 by Capt. Dennis Trone. Later she was featured prominently in movies like the 1973 Tom Sawyer (as the River Queen) as well as the 1974 Huckleberry Finn.
It was well known that John Hartford had a love of riverboats, this was a part of life he would both draw and capture in his music. But many may not know that John and Capt. Trone (owner of The Julia Belle Swain riverboat) were close friends and as a mentor Trone guided John through the process of securing his river pilot's license. John became a frequent guest river pilot of the Julia Belle Swain. It seemed only appropriate that this banjo should join these two deeply loved areas in John's life.
You may recall that John even named one of his songs for her that appeared on his Mark Twang album.
From the song "Julia Belle Swain":
"Now the Julia Belle Swain is a women's lib boat

First I ever knew

Got girls in the pilothouse and girls on deck

And a lady in the engine room

Now Donna's got her license

Cindy's learning to steer

Little Julie keeps Moon outta trouble by wandering off everywhere

By wandering off everywhere"
The "Cindy" mentioned above in Hartford's song is Cindy Sinclair. Sinclair grew up in Petersburg and was a friend of Trone's daughter, which led her to work on the Julia Belle Swain where she met Hartford. In an interview with Sinclair conducted after Hartford's death in 2001, she remembers her experiences this way:
"It was an all-volunteer crew. It took about ten days to make that trip down the Illinois to the Mississippi, down the Mississippi to the Ohio, down the Ohio to the Tennessee, and on to Chattanooga. It was just like going back in time. John loved those trips…. John took detailed notes when he was piloting the Julia Belle, writing down his observations about the river. In his last days I would sit with him for hours and read to him from his log books."
The Julia Belle Swain riverboat is now owned by a not-for-profit "Julia Belle Swain Foundation" which is in the process of restoring and preserving this historic boat. After she is complete, the foundation expects to keep this attraction in La Crosse, WI to hold weddings and other events. If you would like to donate to this restoration you can get in touch with the Foundation at https://juliabelleswainfoundation.org