La Roche Bluegrass Festival is Europe's largest festival dedicated to bluegrass. Located in the French Alps close to Geneva, this is the destination for pickers all over Europe in the first week of August each year. Not only is there jamming among many nationalities, all the concerts are free and brought to life by the community of the historic French town La Roche.
With all this festival has given to the bluegrass community of Europe and extending across the great Atlantic to American artists and fans, Deering Banjos wanted to give back and thank them by donating a one of a kind custom Goodtime Banjo with the 2018 La Roche Festival logo burned into the peghead!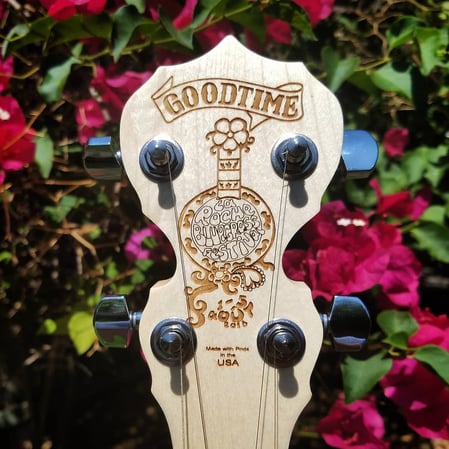 During the festival next week this will be auctioned off with the proceeds going to the festival's chosen beneficiary "Association Art de Vivre". This is a group of volunteers who work with a retirement home in La Roche. They have a strong cultural orientation, providing companionship and organized outings, conferences and shows enriching the lives of those who need it in their community.
If you are attending the La Roche Festival perhaps you will get to take this special banjo home while contributing to the wonderful town that makes it all happen.
Jamie Deering will also be in attendance this year with a swag bag that any Deering players who find and share a photo with her get to pick from!