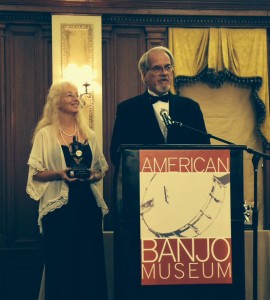 The American Banjo Museum in Oklahoma City inducted David Day into the Hall of Fame Sept 5th, 2014. Greg and Janet Deering accepted the award in David's behalf since he was general manager of the Fairbanks Banjo Company when they became the Vega Banjos around 1904. David Day is a man none of us knew, but we all know him by the master works he achieved through 5 companies and decades of banjo making. David Day was a part of creating banjo designs that we are still using today.
Of the five companies David Day was involved with, Fairbanks & Cole, Fairbanks, Fairbanks with new owners, Vega, and then Bacon and Day, all of them achieved accolades for great banjos during the time David Day was working there. His tubaphone tone ring and Whyte Laydie tone rings are some of his many contributions that live on in banjos being made and played today.
Greg Deering personally testified that when his company makes a batch of tubaphone tone rings developed by David Day 105 years ago, when he sees 20 or so brand new tubaphone rings sitting on the bench ready for plating, these tone rings are an incredible treasure in his book. As Greg Deering states, "The treasure wouldn't be better if it were diamonds." This is an example of the legacy of David Day honored by his induction into the American Banjo Museum's Hall of Fame.