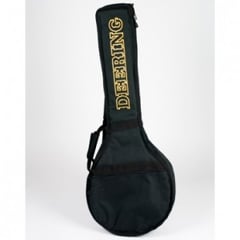 We are now offering our beautiful gig bags, on our website (which regularly sells for $97) for a special discounted price of $69! This price is only as long as supplies last so please treat yourself right…. treat yourself to a Deering gig bag.
Playing the banjo is one of the most rewarding, fun and healthy activities that anyone can enjoy. Carrying a banjo around isn't always as much fun. Because banjos tend to be a little heavier than other instruments, the typical hardshell case handle can be a bit tiresome to hold onto while walking around a festival or to a banjo lesson or to a gig when you are also carrying microphones, speakers or other band equipment.
Hardshell cases are very important for professionals who have to travel by bus, plane or train from city to city and might have to put their banjo in a luggage area, a bus under-luggage compartment or even the trunk of a car with other instruments or suitcases bouncing around which could crush or damage a banjo.
But for many of us, who play for fun, with friends and even at casual gigs like coffee houses, church, or festivals, the humble and practical "gig bag" can be a huge relief to tired hands, arms and shoulders that are tired of hauling around a heavy instrument in a "made to protect against serious abuse" style of case.
Most of us can carefully pack our banjo in a gig bag and keep it in the back seat or our car. Even in our trunk, we don't usually have heavy equipment that will crash down on our beautiful banjo. In fact, I'm seeing more and more professionals, who use the hardshell case AND the gig bag. The hardshell case protects the banjo during plane travel or in the band's bus but quite often, the cab ride to the concert hall is more comfortable with a banjo in a gig bag slung over their shoulder.
I am willing to speculate that most of us would be perfectly well served with a gig bag for 90% of our church gigs, coffeehouse gigs, school shows, going to and from banjo lessons and definitely for carrying the banjo around at music festivals.
Even a heavy banjo in a gig bag, can be much more comfortable, and easier to transport. True, you have to be careful not to drop it, bump it or toss it into a pick up truck bed, but personally, I avoid that kind of treatment of my banjo even with my hardshell case. I love my banjos and am very careful with them.
But after years of walking around festivals, gigs and jams with hard cases, I can tell you firsthand that a gig bag has been a huge relief. Sling it over my shoulder, with one or two padded straps, and I can march for miles….or across long parking lots, in the heat, to the stage on the other side of the park… or festival grounds, or to the coffeehouse with no parking near it….or carrying a box with microphones, stands or helping with the PA gear….etc. My hands no longer feel stiff and beaten up when the music starts, because my shoulders carried the instrument, not my hands.
Your hands will thank you! Your shoulders will thank you! Your back will thank you! And…your audiences might like you even more because you won't be stiff and sore from carrying your instrument…from your car to the stage!
Believe me, the relief you'll feel, will make this $69 investment "feel" like a million bucks …of relief. Be good to yourself. And besides…it's called a "gig bag" for very good reasons….