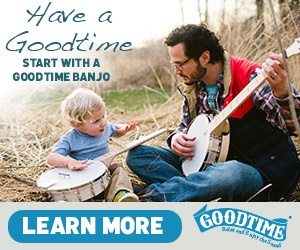 The world is a busy place and there is no doubt that there is much on everyone's plate. Because of this we often put off what might be one of the most fulfilling experiences of our lives such as learning to play a banjo. Today I would like to see if I can help you see ways to carve out some time to make this happen sooner than later!
Where To Begin
Why, at the beginning, of course! But where is the 'beginning"? It will actually be different for each and every one of us because we are not in the "same place" at the same time!
Listen to the music played on banjo. You can listen in your car to some of the great shows on Sirius radio or your local stations. Download some music from your favorite online music store such as iTunes to your phone or iPod and listen while you walk, run, or bike. You can cook to that music, dance to the music, the point is to listen up!

Don't know who do listen to? If you are looking towards the classical, check out any of the more current Kruger Brothers Band or Bela Flecks classical recordings. If you want hard driving bluegrass try starting with Terry Baucom. You say you love the gentle and sweet sound, then check out Steve Martin or Mark Johnson who both play the sweet "Clawgrass" style of banjo developed by Mark Johnson himself. Want some rock and roll banjo, then listen to the Dropkick Murphys or the Avett Brothers. If you like jazz then try out Seva Venet's Storyville Stringband. Roam YouTube and you will find a rainbow of banjo styles and banjo players all proudly doing what they love best…playing the banjo!
After this inspiration, you will need a banjo. Deering makes the wonderful Goodtime line of banjos and has dealers all over the world. Greg Deering made the Goodtime banjos to encourage everyone who loves banjo to stick with it. These are built to help you succeed by offering necks that are comfortable to play, wood that has a delightful sparkle, and folks at the factory to help with technical support.
How to learn? Depends on how you LIKE to learn. Really, it does! This is because in today's world we have books, dvds, CDs, videos, smartphone apps… technology at our fingertips and much of it free! The internet has many websites with free banjo instruction, YouTube is a veritable "gift basket" of free lessons, and there are Skype teachers and online outlets for teachers that bring your lesson to your doorstep. There is the Murphy Method if you like to learn by ear, there are lots of videos if you need visual clues and lots of books or free help on the Banjo Hangout.
How should I play? You can strum it by using our easy Deering 2-finger lessons. You can pick it like Earl Scruggs or Bill Keith. You can clawhammer frail it like Pete Seeger. YOU get to be the one who makes the choice! Not many things nowadays put you in that much control!
Meeting more banjo players. Here you will have to possibly venture out the door! But festivals are a great way to get the family involved and have some fun with folks who love to do what you want to do… play banjo. Look for bluegrass clubs, old time associations, folk music clubs, or check out your local recreation center to see if they have a music class that uses various types of instruments. People are the key here because this community of folks will inspire you and teach you and make you feel at home!
Heroes are folks who overcome their fears, not folks who have no fears. Be your own hero. You can play the banjo. Making mistakes is how some of the most beautiful music has come to be. You may just be the next "Earl Scruggs"…ok, maybe not but you sure can have some fun finding out your own personal style with banjo!