A No Knot tailpiece is a type of banjo tailpiece designed around the turn of the 20th century. It was created to solve the problem of having to tie a knot with the gut strings that were being used at that time to attach the strings to the tailpiece.
These type of tailpieces also had another aspect to them, they provide very little break angle on the strings as compared to a tailpiece that you would later find on Mastertone banjos. The more break angle on the strings from the tailpiece, the brighter your banjo will sound. Thus, no knot tailpieces have a much mellower/plunkier tone.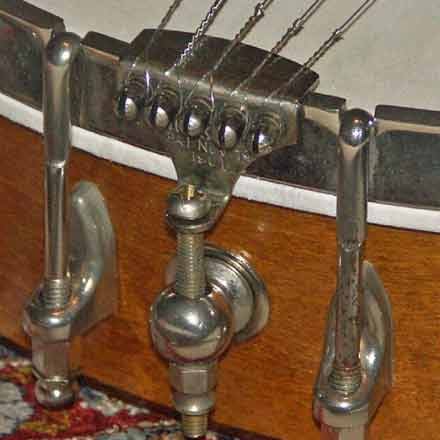 Vintage No Knot Tailpiece
Today, very few banjoists use gut strings that would have to be tied on. Almost all banjoists today use loop end strings. However, many banjoists - mainly old time and clawhammer players prefer the tone of the simple no knot tailpiece.
There are a number of types of no-knot tailpieces being sold today, and most of them actually don't solve the original problem of having to tie a knot when using gut strings. Banjoists today choose them for the old style tone.
Deering has their own take on the no knot tailpiece called the Deering Knot-Less Banjo Tailpiece. Check this tailpiece out here!