The fall season over the last three years has been a time for giving back in partnering with Cheerwine and The Avett Brothers in the Legendary Giveback Campaign! This year is no different...we are happy to continue the tradition in making this years' one of a kind Legendary Giveback IV Banjo!
As of Monday morning Nov 30th this custom banjo is up for auction with all proceeds going to benefit the Giveback charity partners for 2015... Caps for Kids, The Empty Stocking Fund, and The Love Kitchen.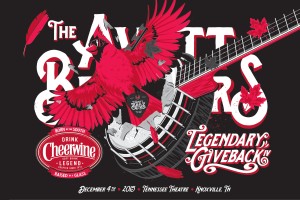 Each year, we at Deering aim to make the "Legendary Giveback Banjo" unique and different from the previous one. When we first saw the campaign artwork for this year by Mariano Arcamone, an artist from Argentina, we knew right away what it would look like. We set out to make the banjo design in his art a reality!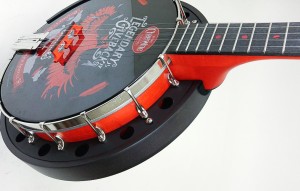 The "Legendary Giveback IV" culminates in a now Sold Out concert taking place at The Tennessee Theatre in Knoxville, TN on Dec. 4, 2015, and will also be live streamed across the country here http://mycheerwine.com/LG4/! All proceeds from this concert also go to benefit the three chosen charities.
The Avett Brothers and Cheerwine's "Legendary Giveback" events have raised more than $175,000 for charities to date. "With three legendary concerts under our belts that have helped nearly 10 local and national charities, we know the 2015 event is going to be bigger and better than ever," says Scott Avett, lead singer and co-founder of The Avett Brothers. "We can't wait to bring the not-to-be-missed experience to Knoxville and attention to three new deserving charities."
Cheerwine, the 98-year-old, family-owned, iconic soft drink, plans and funds the legendary annual event. Proceeds for the charities come from ticket sales, concert merchandise and the auction of the "Legendary Giveback Deering Banjo", signed by all band members the day of the show!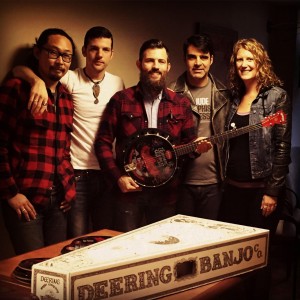 "We may be the 'little guys' in the soft-drink category, but we love putting on a big, legendary show that gives back in a major way to amazing local and national nonprofits that support kids, families and those in need," says Tom Barbitta, senior vice president of marketing for Cheerwine. "We hope that people across the south and the country will join us in our 'Legendary Giveback' movement to celebrate the spirit of 'spreading cheer' to those in need."
You can find out more about the "Legendary Giveback IV Banjo" and giveback by bidding on it here!