The Avett Brothers teamed up with Cheerwine, again this year to present the Legendary Giveback II, a one-night-only charity benefit concert at North Charleston Coliseum in South Carolina. This took place last Thursday night and I was honored to attend and present 2013's Legendary Giveback II Deering Banjo! It was personally signed by The Avett Brothers the night of the concert and is now up for auction until November 25th.
You can find out more and bid on it here!
This banjo is designed after the Deering Vega Senator, one of the models Scott Avett plays. Stained a Cheerwine red that accents the grain of the maple wood beautifully it is quite stunning to behold. As an added bonus it is Acoustic-Electric with a pickup already installed. The custom head bears the creative Legendary Giveback II artwork for 2013 designed by Charles Crisler.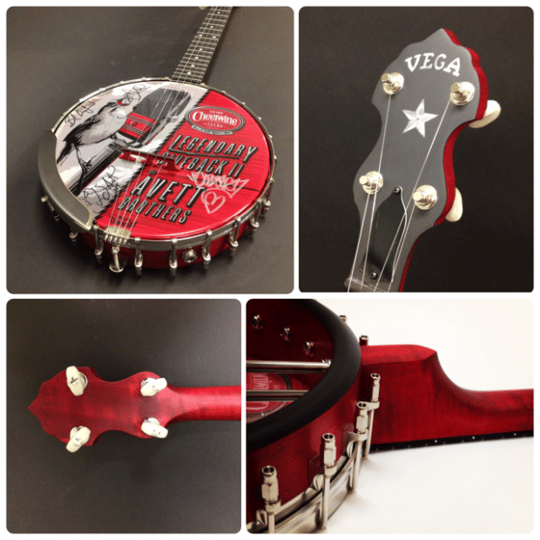 This is about more than just legendary music...or soda...or instruments. It's about giving back to the community. This year, Cheerwine and The Avett Brothers have decided on the below organizations to benefit from the Legendary Giveback. All proceeds from this banjo auction will go to these charities as well!
Operation Homefront who gives back by providing the families or our military service members and wounded veterans emergency assistance in times of need.
Big Brothers Big Sisters who have been giving back for over a century by providing underprivileged children with mentoring opportunities that change their lives forever.
The Children's Hospital of South Carolina at MUSC. They are proud to offer medical resources to children across the region of Charleston and the Southeast
Cheerwine, based in North Carolina, is one of the oldest family-owned soda companies in the US, and has been giving back in the Carolinas for many, many years. Like Cheerwine, The Avett Brothers are Legends in the South, so it is little wonder that they want to help give back to the community that has given them so much. We at Deering, also being family-owned and run are proud to contribute to this cause and partner with two such wonderful groups of people in giving back to our community.