What do banjos and African elephants have in common?
The first significant similarity is that they both have their roots in the great lands of the African continent. It also turns out that they are both loved dearly by me.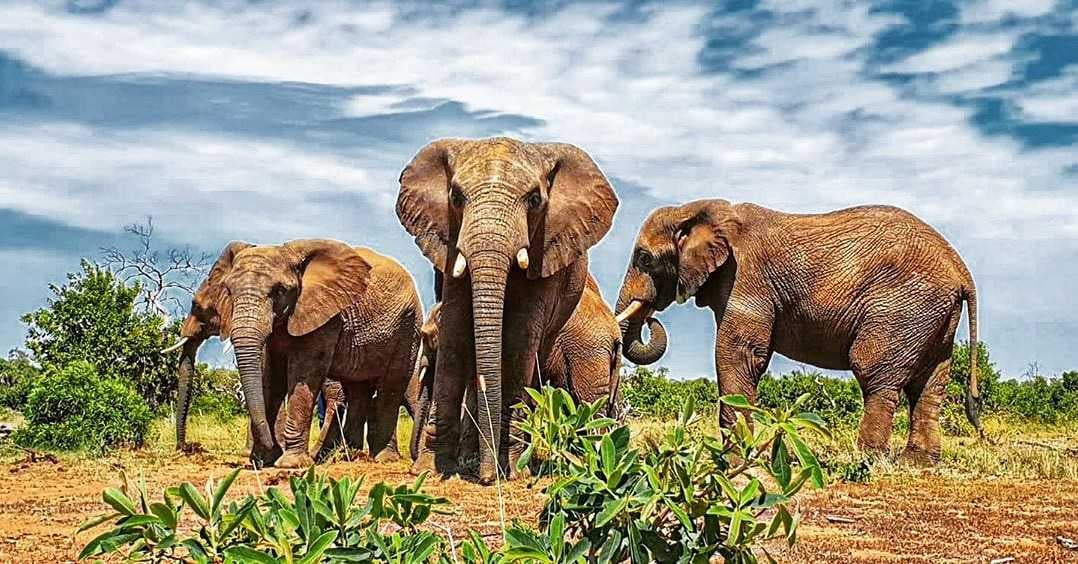 Bringing them together and celebrating their shared ancestry it is my great pleasure to bring you this one of a kind African Elephant Goodtime Banjo!
The drum-head of this banjo was kissed by Chishuru, an African bull Elephant who you will learn more about in this piece. Bearing the image of this majestic animal on the peghead and custom painted the warm grey of their strong skin, this banjo was made to contribute to the lives of the African elephant!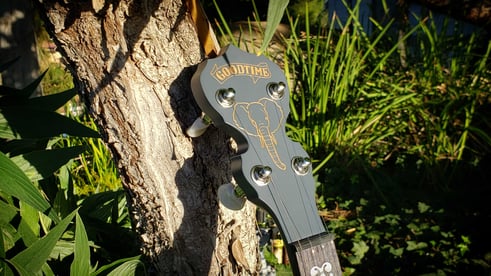 The auction for this one of a kind banjo is officially live! The proceeds will be donated to the dedicated work Rory Hensman Conservation & Research Unit does! They are a South African based non-profit who researches and educates toward handling a wide variety of issues to better understand and help African elephants continue to live healthy and safe lives. They have the mission to foster an environment of collaboration among experts, fueled by the common passion to conserve wildlife. Conservation starts with understanding.
It all started back in Feb 2016 when I had the rare opportunity to visit South Africa working with Mumford & Sons on their South Africa Tour Charity Banjos (Thank you Mumford & Sons). It was my dream to see African elephants while there, who wouldn't want to experience that!? I did much research on elephant reserves and found one that was impressive. This was Adventures with Elephants, the home base for the Rory Hensman Conservation & Research Unit (RHCRU).
The elephants in this sanctuary are rescues that were slated to be killed due to being "problems" in other reserves or agricultural farm areas. These rescues have grown into a family herd and are close to the humans who take care of them. All the photos here are of elephants in this sanctuary. Since being rescued they have been treated with care, respect and allowed to be independent elephants roaming their own land and have learned to co-exist in harmony with humans. Together they have educated thousands of people on the true nature and value of African elephants, changing the conversation to one of preservation rather than killing. This is important to me. The amount of work RHCRU does to see that elephants all over Africa are understood, healthy and taken care of so they will continue to be a prominent part of the wilds of Africa is inspiring.
Meet Chishuru and Nuanedi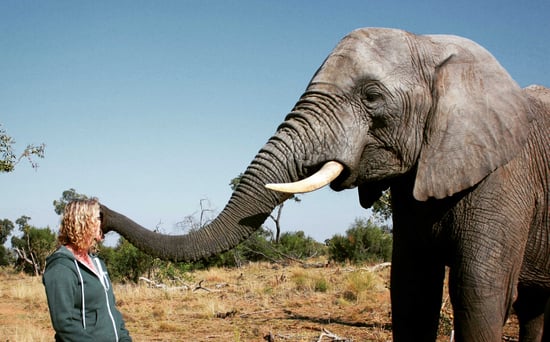 While visiting this Sanctuary again in 2019 I was able to interact with the family of Elephants and one specific one giving "kisses" with his trunk. This was Chishuru! There is never a dull moment with this big boy around. Chishuru is the taller of the two bulls in the herd, he is the sub-dominant bull despite this and weighs nearly 4 tons. So, would you believe that he allows little warthogs and a lonely ostrich to ruffle his feathers? He does! Watching a warthog weighing 30kg and standing 50cm tall, sneak up on a 4 ton elephant and get a reaction out of him, is extremely entertaining. I learned how clever he is when he "kissed" my whole face rather than my cheek in the photo above! He also kissed a banjo drum head with non-toxic finger paint. This is what I saved and made it part of the special African Elephant Goodtime Banjo to give back to their livelihood.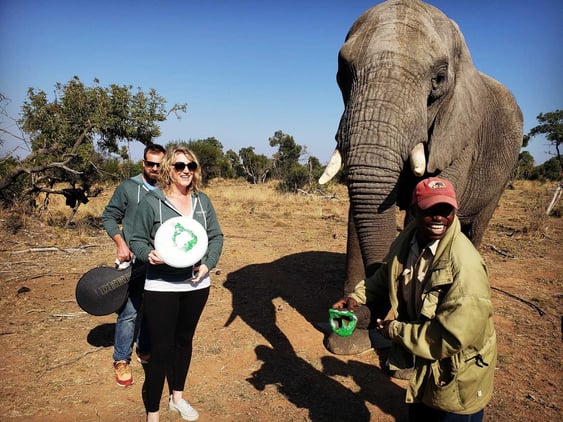 Another of the family got to smell and ended up strumming the Goodtime Banjo I brought along, this was Nuanedi who is quite a character. There is a bit of silliness in her and she is the accident prone member of the family. Calves, Bela and Zambezi's daily antics can often be a full-time job for this special aunt. If play gets a little rough, she will rush over to settle the babies. She regularly forces the big bulls Chova and Chishuru to swim in a different area of the dam, nowhere near her precious niece and nephew. (Sorry to say that strummed Goodtime Banjo is my personal beloved travel banjo and is not up for sale or auction). She went to smell the banjo and ended up strumming it and went back a few more times to try it out! You could see her perk up when she registered she was making the sound happen. This was an incredible moment I will never forget.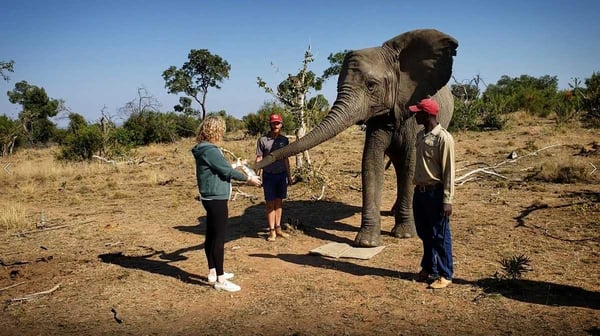 More about the Rory Hensman Conservation & Research Unit
The Rory Hensman Conservation & Research Unit (RHCRU) was found in 2016 after the passing of Rory Hensman who gave his life to wildlife conservation and better understanding of the complexities facing conservation of Africa's wildlife. Rory's chief aim was to find holistic and beneficial ways for both wildlife and humans to co-exist.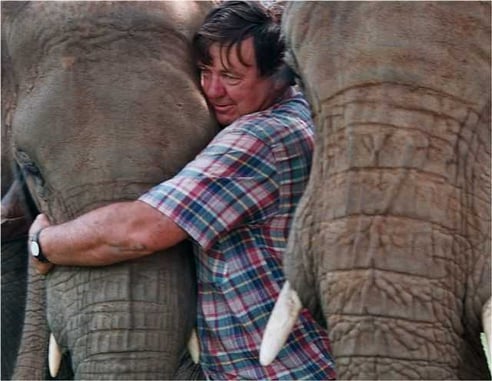 You can read about the research projects RHCRU has been working on here, handling a wide variety of issues to better understand and help African Elephants continue to live healthy and safe lives.
In 2003, Rory started Elephants for Africa Forever, an organization which took in problem elephants due to be culled (killed) and instead tamed and trained them to connect with humans, and those elephants have since educated and inspired people to think more about elephants and their conservation in an ever changing Africa. In 2010, Adventures with Elephants (AWE), the home base of RHCRU, was established. Adventure with Elephants is a unique animal reserve in South Africa which educates visitors through an interactive experience. Just a couple of hours away from Johannesburg, AWE and the Rory Hensman Conservation & Research Unit work hand in hand to educate others on the wonders of elephants, with the hope that humans will be motivated to look after them and other wildlife. They want the impact of what they do to be as far reaching as possible, fostering a world-wide love, understanding and admiration for elephants.
Sadly, Rory passed in 2013, but his legacy and passion for elephants lives on through the Rory Hensman Conservation & Research Unit under the guidance of his son Sean Hensman. they aim to deliver workable solutions to those on the ground directly involved with wildlife, and to engage their help in creating intelligent, effective, and simple solutions.
Conservation starts with understanding.
You are welcome to participate in the auction for the African Elephant Goodtime Banjo and contribute to their preservation.
If you ever visit South Africa, Adventures with Elephants and the Rory Hensmen Conservation & research Unit look forward to meeting you!