Deering Banjos has partnered with Mumford and Sons to create special banjos to be auctioned for charities in each location they visit on their upcoming US tour.
The USA Arrow Through the Heartland Tour feels like the fulfillment of a childhood dream; rolling from one great city to the next, enjoying the unique personality each represents. And to make it even more fulfilling we bring you the USA Arrow Through the Heartland Charity Banjos!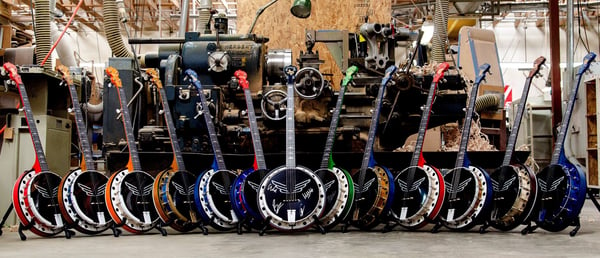 These are custom banjos for each State visited on Mumford & Sons USA Tour 2016. They are being auctioned off benefiting local human needs charities, specifically picked by the band and Deering, for the areas of their concerts. These cover Texas, Oklahoma, Arkansas, Louisiana, Alabama, Georgia, North Carolina, Tennessee, Missouri, Nebraska, Minnesota, Wisconsin and Indiana. Each banjo is designed specifically with its state in mind, and are made in the USA!
Modeled after Deering Banjo's newly released Artisan Goodtime Banjo line, hand crafted with pearloid scroll inlays set into a Midnight Maple Fingerboard, and the colors of the State prominently represented in the wood stain and plating of the hardware. The drum head of the banjo, made by Remo Drums, bears the Mumford & Sons Wings logo of their 2016 tour and is personally signed by each member of the band!
The Texas, Oklahoma, and Arkansas auctions are currently live and those remaining will roll out through the month of April! You can see the details of each of them and participate at http://stores.ebay.com/auctioncause/deering-banjos.
Here is the full list of charities benefiting from the Mumford & Sons USA Banjo Auctions, and the dates they will be live: