The International Bluegrass Music Association (IBMA) World of Bluegrass week kicks off today in Raleigh, North Carolina where you can celebrate, participate and enjoy anything and everything bluegrass!
As many know the "other" meaning for IBMA is "I've Been Mostly Awake"... this is a week known for non-stop jamming. Pickers of all levels of skill and ages meet up with new and old friends to play. There are seminars on a wide range of music industry subjects, touring, booking, songwriting, and many more. Not to mention all of the showcases of long time and emerging bluegrass artists!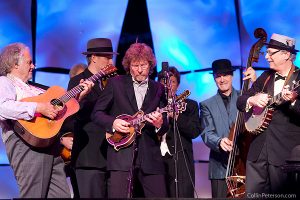 You can find Deering Banjos in the Expo Hall at booth 101. Janet & Jamie Deering, as well as Carolina Bridges and John Kavanaugh (of Kavanjo Pickups) will be at the booth during Expo hours and look forward to catching up with all who attend!
This year we are thrilled to have our newest Deering Endorsing Artist, John McEuen, of the Nitty Gritty Dirt Band, attending IBMA. We will be doing a special giveaway of a John McEuen Goodtime Banjo that you can enter to win at our booth (101) Wednesday-Friday. The winner will be drawn at John's Showcase in room 305AB starting at 3pm on Friday September 30th! Must be present at the drawing to win!! Then, as if that was not enough, directly after from 4:20pm - 5pm on Friday John McEuen will be signing and hanging at our booth where you come say hello!
We are greatly looking forward to seeing all of the artists performing this year, including The Kruger Brothers performing Spirit of the Rockies at the Red Hat Amphitheater on Saturday, Oct. 1 at 4:20pm with the Symphony of The Mountains!
If you do not have tickets to any of this yet and would like to come join in the party, you can get tickets here.
For some back history to IBMA it is the trade association that connects and educates bluegrass professionals, empowers the bluegrass community, and encourages worldwide appreciation of bluegrass music of yesterday, today and tomorrow!
It is not widely known that IBMA is the main supporter and contributor to the Bluegrass Trust Fund (the "Trust"), and in fact IBMA was formed back in 1985 with the vision of creating the Trust. Seeing that it continues as an invaluable resource to the bluegrass community is still a main goal of IBMA.
The Bluegrass Trust Fund was established in 1987 as a means to offer financial assistance to bluegrass music professionals in time of emergency need. Patterned after similar entities in the music world, the Trust is a 501(c)(3) non-profit charitable institution governed by an autonomous five-person board of trustees appointed by the International Bluegrass Music Association. Since 1993, the Trust has given out nearly $600,000 in relief assistance to bluegrass music professionals. Funding for the Trust primarily comes through IBMA's Wide Open Bluegrass Festival (formerly Bluegrass Fan Fest) and donations from individuals. Many times the fund is called on for medical emergencies, at times of death, natural disaster or other hardships.
It is with this in mind, and our love for the bluegrass community and music that we are honored to have continually been a sponsor and supporter for this event each year!
We look forward to seeing you in Raleigh!