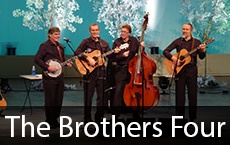 There are a select number of bands that we can say captured the essence of the Folk Revival Era in America. One of those is The Brothers Four who celebrate their 50th anniversary as a band this year! Listening today to their incomparable harmonies and musical expertise on banjo, guitar, upright bass, and mandolin, we can well understand why they are still an American favorite.
While there were many tribute bands made up of fans on this recent 5-week tour to Japan, The Brothers Four Friends Club is the oldest, formed 50 years ago and still going strong today.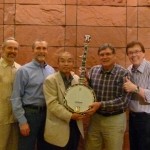 One of their members, Mr. Takahashi, was presented with a Deering Tenbrooks Legacy banjo by Mark Pearson of the Brothers Four. Mr. Takahashi is a member of a group called Folk Wave, formed 50 years ago when he and his friends were in high school. This is the kind of impact American music has had on another country thanks to The Brothers Four band.
As just a musical reminder, some of their most well known songs include Greenfields, Yellow Bird, Try to Remember, Across the Wide Missouri and The Green Leaves of Summer from the motion picture "The Alamo." Mark Pearson, one of the two original members of the band, is the Deering banjo player in the group and also a talented 6 and 12-string guitar player. He plays a matched pair of Tenbrooks Saratoga Star banjos in 4 and 5-string as well as a GDL- tenor. Founding member Bob Flick is group leader, singer/song-writer, and plays bass. Other members include Mike McCoy and Karl Olsen, both seasoned folk performers and singer/songwriters.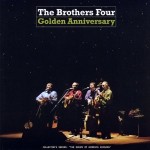 Their latest release is "The Brothers Four - Golden Anniversary." Recorded live with the 100-voice Sno-King Community Chorale, this is part of the collector's series "The Sound of America Singing." You will find it hard not to sing along with these 20 beautifully performed musical numbers that include 3 medleys of Bluegrass, Calypso, and Railroad music. Visit their website, http://brothersfour.com/, and order this outstanding CD for your personal collection.
We congratulate The Brothers Four for their stellar and long-lived career and wish them continued success.