Greg and Janet Deering are hosting a series of banjo workshops at various Deering dealers across Europe and the UK. Will they be visiting a store near you?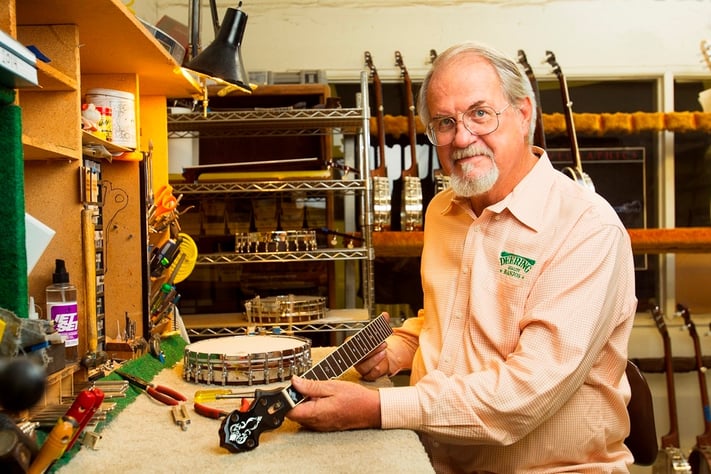 If they are, be sure to attend and enjoy an evening of banjo set up and maintenance, courtesy of Mr. Greg Deering himself - the world's top banjo builder.
At these workshops, you will:
• Enjoy stories of banjo artists & events that have shaped the banjo world today.
• Watch Greg demonstrate how to set up a banjo for the best sound and get all your banjo questions answered by the world's expert on banjos.
• Greg will show you how to keep your banjo adjusted and playing great!
Take a look at the list below and download the poster for more information on your nearest workshop!
Saturday, Febuary 24th - United Kingdom
Eagle Music, All Day
The North Light Gallery, Brooke's Mill, Armitage Bridge, Huddersfield, HD4 7NR.
______________________________________________
Saturday, March 3rd - Switzerland
Musikhaus Saitensprung, 1-3pm
Unterstadt 27, 8200 Schaffhausen
______________________________________________
Sunday, March 4th - Switzerland
Hans Looser, 2pm
Frohwiesstrasse 25, 8330, Pfaeffikan, Zurich
www.banjo-hansjlooser.jimdo.com
______________________________________________
Thursday, March 8th - Germany
Well Strung, 5-7pm
Weisestr 3 12049, Berlin
______________________________________________
Saturday March 10th - Germany
Marti n's Musik-Kiste, 3pm
Bertha-von-Sutt ner-Weg 13, 24568 Kaltenkirchen, Hamburg
______________________________________________
Sunday, March 11th - Germany
New Acoustic Gallery, 3pm
Schloss L, Wuppertal, 42327, Germany