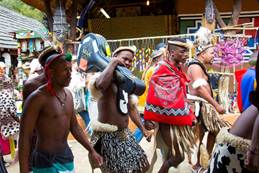 "In the jungle the mighty jungle the lion sleeps tonight"…but not if he has to hear a banjo playing! OK…just joking. But a banjo safari? You bet! Recently I received some great pictures from one of our customers who actually organizes banjo safaris. I think from these photos we can learn that banjo playing is so much fun that you don't leave home without one!
Meet Kevin Dooley. Kevin puts together banjo safari workshops in South Africa. He owns a safari company and in 2012 he held his first one. Here he is playing his Vega Senator with a native resident.
The banjo workshop instructor was veteran banjo instructor and professional Ross Nickerson. The banjo workshops were held in the middle of the day and the safari activities in the mornings and evenings.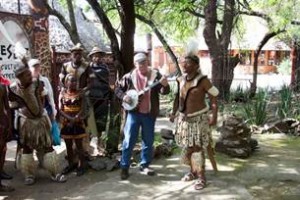 The group took a day trip to the village school. Here they shared their love of banjo with the native school children. Here, Bob Emmert of Banjo Bob's plays the African national anthem on Kevin's Vega Senator, much to the delight of his audience.
The safari banjo players gave a concert for the school and Ross Nickerson gave a little history lesson on the banjo and answered questions. The group donated a banjo to the school which was donated by Bob Emmert of Banjo Bob's in Cedar Crest, New Mexico!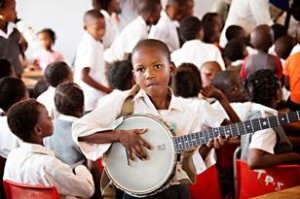 Day is done and soon it will be time to leave Africa. Kevin thought this "sentimental journey" for the banjo to Africa would be fun. He said that it turned out to be one of the wonderful trips" and "so successful that they are planning another one November of 2013." You can contact him at www.idubephotosafaris.com.