Deering has teamed up once again with Bele Fleck's Blue Ridge Banjo Camp, launching a new auction to raise funds for special Camper Sponsorships for exceptional pickers!
This year, we have not one, not two, but three Deering artists on the teaching roster in the form of Tony Trischka, Ryan Cavanaugh, and the most recent addition to the Deering artist family, Kristin Scott Benson. All three have signed the head of a brand new Deering White Lotus banjo, alongside Adam Larabee and of course, the man himself, Mr. Bela Fleck.
All three have also appeared on Deering Live, and you can watch each of their most recent appearances by scrolling down below.
The auction is now live and bidding will conclude after the final concert of the Blue Ridge Banjo Camp at 6 pm PDT (9 pm EDT) on August, 21st 2022. The banjo itself will be out at the camp all weekend, so if you are attending, please go check it out!
The amount raised from this auction will determine the number of pickers who will benefit.
Let's raise a ton!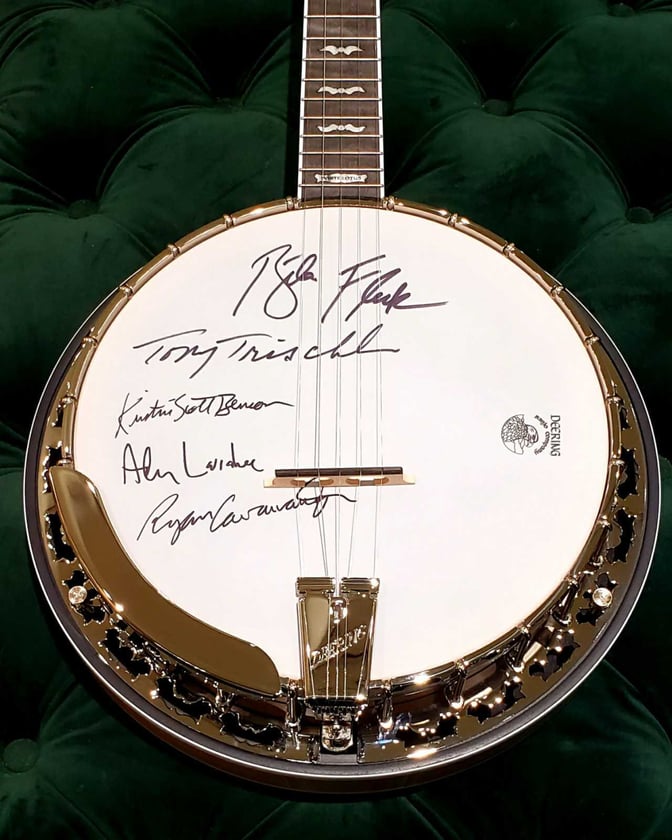 ---
The Inside Skinny of The Blue Ridge Banjo Camp
Béla Fleck presents the Blue Ridge Banjo Camp held at the Brevard Music Center in Brevard, NC on August 14-18, 2019. The camp features 3 days and 4 four nights of diverse banjo instruction by Béla himself alongside a cast of world-class banjo players/instructors. The week culminates with a finale concert held in the beautiful Whittington-Pfohl Auditorium. The instructional focus will be on the three distinct styles of three-finger banjo playing: Scruggs, melodic, and single string. The Blue Ridge Banjo Camp will provide banjo players with the tools to improve their playing and aims to contribute to the overall growth of the fine art of the 5-String banjo.
All About the White Lotus Banjo
The Deering White Lotus banjo has an early beginning in Greg Deering's heart. Having heard and loved a vintage guitar of white oak many years ago, and dreaming about it from time to time, Greg Deering decided to experiment with a white oak rim and neck for a banjo. He was excited to see how the tone of this unique wood translated over to a banjo. Surprisingly the result is a banjo with an almost metallic resonance without a tone ring. Why? American white oak is noted for a heavy, straight-grained texture; hard, tough, very stiff, and strong. It is these key qualities of white oak wood that imbue this banjo with strong fundamental notes and a series of overtones that imitate a bell metal tone ring without the additional weight characteristic of this classic banjo component. Now the banjo player can have the much desired lighter weight banjo with "tone ring" power.
Blue Ridge Instructor appearances on Deering Live
Take a look at the Deering Live appearances from this years Blue Ridge instructors!