The original roots of the banjo can be found in Africa, and through his music, an incredible man from Malawi in East Africa is honoring the heritage of our favorite instrument.

His name is Lazarus.
And while Lazarus's story is one of hope, and triumph, there is a dark side before the music. Lazarus has albinism, which in Malawi and surrounding countries makes you a target for attacks and killings. Many people think they are magical and that their body parts, when used in witchcraft, can bring wealth and good luck. As a result, people with albinism have been persecuted, killed and dismembered, and graves of albinos dug up and desecrated. At the same time, people with albinism have also been ostracized and even killed for the opposite reason, because they are presumed to be cursed and to bring bad luck. So many people with albinism either get attacked and mutilated or kidnapped and killed by criminal gangs.
It has led to the murder, abduction and mutilation of over 600 individuals in East Africa. Lazarus has become one of only a few brave vocal activist on the issue despite the risk to his life.
Enter Johan Hugo of the band The Very Best. He learned about the situation Lazarus and all African albino's are dealing with, he also saw the incredible music Lazarus was making as a street musician. It became a passion of Johan's to share them both with the world, and he set out to produce Lazarus' first ever album.
As Johan put it, " A friend of mine from Malawi showed me a little film clip of Lazarus busking. He has this punk kind of sound while playing his home made canjo. I'd never heard anything like it. Really intense and raw with a real pop sensibility. I spent a year thinking of ways to make a record with him before I approached my friends David Darg and Bryn Mooser to see if they wanted to come with me and make a film about Lazarus."
The prolific David Darg (Oscar nominated film director), and film producer Bryn Mooser did arrive with Johan to produce the documentary on Lazarus, his life, challenges and music, for their production company RYOT.
In the process of recording his album and making the documentary they wanted to feature Lazarus playing with other musicians. An act that was proving challenging. While his home-made 4-string oil can banjo (as seen in the picture below) sounds great and records ok, it wasn't holding tune sufficiently when people on modern instruments played with him. He had built his banjo from an oil can, a thick piece of wood for the neck and wood pegs for the tuners. Lazarus (and most people with homemade traditional string instruments in East Africa) use brake wires from push bikes for strings. They cut open the plastic wire and uncurl the wires inside.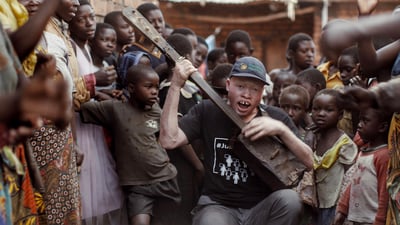 While it has a wonderful and unique sound it is very hard to keep in tune, often requiring water to be poured on the wood tuning pegs to turn them. That is dedication to bring music into the world!
That being said Johan didn't want to lose the vibe of the home-made banjo and started to wonder if there was a banjo maker out there that would be willing to try to build a custom banjo that was similar to his, but that was a modern instrument.
This is where a network of friends in the music community around the world come into play. Johan reached out to his long-time friend Winston Marshall of Mumford & Sons, to see if he recommended any great banjo builders. Winston reached out to us at Deering and of course we were happy to help!
What came of this was a properly scaled Goodtime 4-string Oil Can-Banjo, or as it was nicknamed "Can-jo". The response from Lazarus on his new instrument was wonderful, "It's so fantastic! My home made canjo has strings made from bike brake cables and they're jagged and used to cut my fingers, especially when I was busking every day, sometimes 7 hours each day. This new canjo also stays in tune very well. I love it!"
The documentary titled "Lazarus" has since been completed and premiered at the 2019 Tribeca Film Festival last month! He had the opportunity to fly in a plane for the very first time in his life to attend Tribeca in New York City. During this trip Johan and the RYOT team helped him connect up many media and industry contacts to get the word out about his music and mission.
Lazarus' album is also a wrap and the first single from it is released, a meaningful song titled "Ndife Alendo" which translates to "We Are Strangers". It is the first track from his upcoming debut album Stomp on The Devil, which was recorded by Hugo outdoors in Malawi to harness the natural heartbeat of the streets that Lazarus has performed on. You can find everything Lazarus here.
With the documentary and record the mission is to make Lazarus a spokesperson for people with albinism, and to normalize these people and show that there is nothing magical about them, that they should not be killed or discriminated against for any reason. There is also a need to keep Lazarus' family,who also have albinism, safe while he dedicates his life to changing how albinism is viewed in Africa. Many contributed to this through a recent Kick-starter that you can see here making an enormous difference in helping Lazarus in this work.
In his music Lazarus fuses traditional Malawian music with modern folk and the song "Ndife Alendo" speaks of hope beyond the horrors of the world.
You can hear and purchase this song most everywhere you can buy music. Know that each purchase of his music makes an immeasurable impact on his life, family and mission!
This is an area of continuing human rights violations that is not well known and needs the attention of the world to resolve. You can find further reading, education and statistics on the injustices Africans with albinism face in the below articles:
Malawi's Albinos Begin 2019 With Fear of Renewed Attacks
Mutilation, killing of Tanzanian boy with albinism strongly condemned by UN rights chief
Long persecuted, Tanzanian albinos find acceptance growing slowly
The Albino Community in Ghana: 'I'm Motivated to Believe That I Can Survive'