We left off in the Banjo Bus Adventure Part 1 hitting the road to Guthrie, Oklahoma…the location for the next Gentlemen of The Road Stopover! The first afternoon in town we stopped in and paid a visit to a big part of bluegrass history and talent, Byron Berline and John Hickman at The Double Stop Fiddle Shop. We were honored to get to sit down and spend some time with both of them.
Rolling into Guthrie at the start of September was hot…intensely hot, but that did not stop 30,000 people from coming out for the Stopover. Guthrie was also a special one for us, Janet and Greg Deering came out to be a part of it!
It doesn't take long before Greg Deering has his toolkit open and is fast at work on a banjo. The one shown in the photo below was an old tenor banjo Christian, from the band Edward Sharpe and The Magnetic Zeros, picked up and added his own art to. It needed some work to be played, which Greg was happy to do.
Oklahoma City was our next stop at The American Banjo Museum for the opening of their new display honoring "Bluegrass Pioneers & New Traditions". Here at Deering we are proud to have contributed to this section of the museum coming to life.
This event saw several hundred people from all over visit and see the new display of banjos added to the already stunning array in the Museum's collection. If you find yourself going through, or even near Oklahoma City this is a MUST SEE, even with just an hour to spend it is worth it. Here are a couple examples of the kind of rare pieces they have: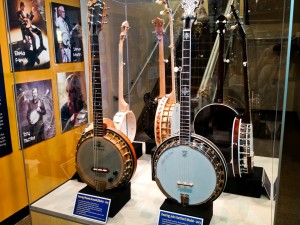 You can now find the following Deering Banjos on display at the American Banjo Museum:
Goodtime Openback, Phoenix, Crossfire, Vega Long Neck, Tenbrooks Saratoga Star with Kruger Tone Ring, The Banjosaurus, Deering 35th Anniversary Banjo, Eagle II with the customized inlays and specs of Winston Marshall from Mumford and Sons (Peghead shown below), Hartford banjo signed by John Hartford! Plus a variety of Goodtimes for a hands on banjo petting zoo display, including a Goodtime Open back Acoustic-Electric, Zombie Killer, Dropkick Murphys Tenor, and a 17 Fret Irish Tenor.
Mike, Vinnie, Arthur, David and I hit the road in the Banjo Bus right after this photo for the final Gentlemen of The Road Stopover in St. Augustine, Florida. On the way there we planned a short stop in New Orleans!
To introduce Mike and Vinnie, they are friends of mine from Orange County, CA who are also in the awesome band Vinnie & The Hooligans . They came out and joined the Banjo Bus for Guthrie and St. Augustine helping at the Stopovers giving lessons and answering banjo questions while enjoying some of the bands that were on the bill. It was really nice having them on the road with us and I greatly appreciated their help and fun vibe they added to the trip.
Spending a day in New Orleans was a cultural experience for never having been before, hearing awesome Jazz in the French Quarter, seeing the traditional New Orleans architecture and yes, the seafood was delicious!
It was a sad moment to realize the St. Augustine Gentlemen of the Road Stopover would be the last one for this year. That being said, it has been an amazing summer taking part in the Stopovers, seeing good friends and meeting new wonderful ones. I still miss seeing them all each week! I would like to say thank you to the entire Mumford and Sons team. They are inspirational people that I really enjoy working with.
Following this we headed north to Nashville, Tennessee for a few days at the Americana Music Conference. The Americana Music Honors & Awards show was a very special event to be at with performances by Lifetime Achievement Awards winners Duane Eddy, Dr. John and Robert Hunter; all phenomenal musicians I never thought I'd have the pleasure to see perform live and who are more than deserving of their awards given.
Yes, our last stop on the journey was at the International Bluegrass Music Association Conference in Raleigh, North Carolina. At this conference the past present and future of Bluegrass is celebrated and shared. This was the first year in Raleigh and I would say it was a hit! It impressed me how much the community came alive and everywhere you looked live music was being played and enjoyed.
Catching up with several good friends and Deering Artists who were there was especially nice!
I was thrilled to learn IBMA and Raleigh arranged a fantastic program to have IBMA attending bands go out to local schools, perform for the kids and answer questions about the music and instruments. Our friends and Deering artists The Henhouse Prowlers did this and had a great time. They were impressed with the questions the kids were asking and interested in. Here are a couple of photos from one of these school assemblies.
Likely one of the best IBMA Award shows to date, with The Steep Canyon Rangers hosting there was no shortage of laughs. It was a memorable night combined with heart felt emotion and fantastic music.
On September 29th we left Raleigh, NC with a mission: reach San Diego by October 2nd. By this time we had become seasoned travelers and took on this challenge! Day one was "short" only Raleigh to Nashville. Day 2, Nashville to Abilene, Texas. Day 3 Texas to Eloy, Arizona. Day 4 Arizona to San Diego, California.
We succeeded in this mission with flying colors. Arthur is one of the all time best distance drivers and was a major part in this trip being a success. Thank you.
I would also like to personally thank all of those who made this possible or contributed in any way, including sponsors Mel Bay, Remo, The Bluegrass Situation, Kavanjo Pickups and the Banjo School with Tony Trischka. Everywhere we went folks were checking out the Banjo Bus, asking us all kinds of questions and telling stories about banjo and music. It was refreshing to see all over the country how music is still a topic that brings people together in the modern world, even at a gas station in the middle of nowhere.
It was a stunning San Diego day when we rolled back into the factory on October the 2nd. Champs!
50 days out. 9866.9 miles traveled. 37 banjos to happy homes. 2,000 banjo lessons given. Countless friends made along the way.
Banjo Bus has had an epic summer!
Until Next Time,
Jamie