Introducing the Mumford & Sons Britain Charity Banjo! As Mumford & Son's home country, great pride was taken in making this one of a kind banjo a true representation of Britain. Starting with a stunning silhouette of Great Britain majestically engraved onto the peg head. The hardware is finished in a glorious white, while the Midnight Maple fingerboard is accented with stunning regal red Artisan inlays.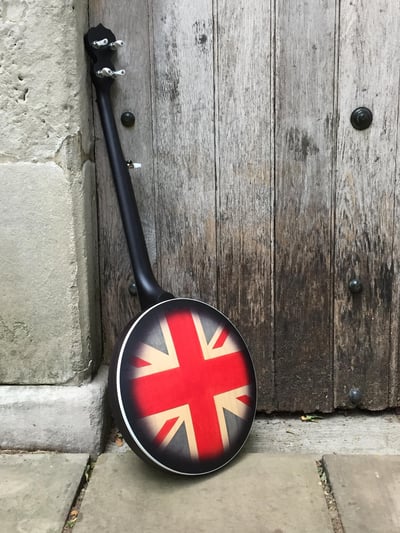 The centerpiece of this banjo however, is the hand stained Union Jack which flies proudly on the back of the resonator; a reminder of one of the most iconic and patriotic images in history. The banjo head bears the Mumford & Sons wings logo of their 2016 tour and is personally signed by each member of the band.
This banjo was made for Britain. You might say it is fit for a Queen.
On Friday July 8th, the day of Mumford & Sons concert in Hyde Park as part of the British Summer Concert Series in London, this one of a kind Great Britain banjo was signed by Mumford & Sons and the auction to win it goes live online July 9th and will run until the 18th! You can see and participate in the auction here !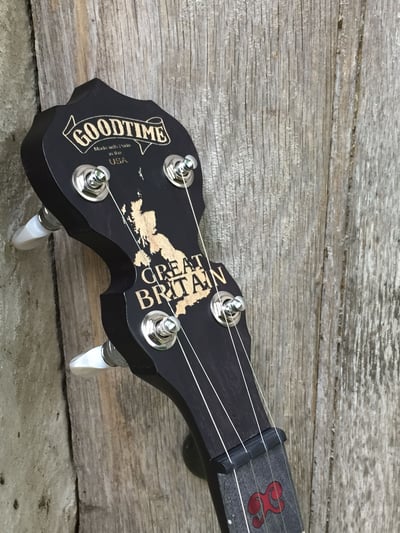 Proceeds for the auction will go to the respected UK school Ark, and specifically their music program. Ark is an international charity, transforming lives through education. Ark exists to ensure that every young person, regardless of their background, has access to a great education and real choices in life. They have a network of 34 schools in the UK and want every child to succeed, so they operate beyond the confines of their own schools to share models that work, and to strengthen and improve education systems. We couldn't be happier to help this aspect of all they do to give the future generation the best education possible.
The Mumford & Sons Charity Banjos are a humanitarian effort Deering Banjos and Mumford & Sons began in 2013 for the Gentlemen of the Road Stopovers, a global series of events in small cities and towns around the world. The band's vision was to create a music festival that celebrates local people, food, and culture, where everyone pitches in and everybody gets something back. It is in this spirit that Deering Banjos was inspired to create something truly special, one of a kind banjos – one for each Stopover – signed by all four members of the band. The banjos were each auctioned off with proceeds going to a charity of the band's choice that was local to each Stopover location.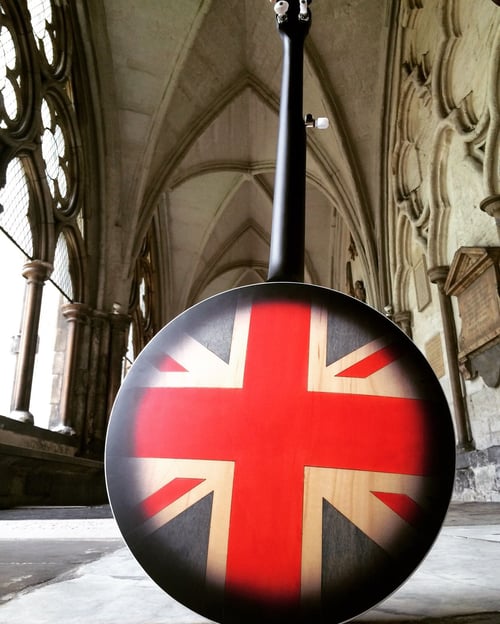 Over the past year this has been continued in the same spirit of giving to the community for the remainder of their tour all over the world. Including Australia, New Zealand, South Africa, USA and Europe where a local human needs charity was chosen in each area they played, and a custom banjo designed to represent that country, city or state was made and auctioned off with proceeds going to the chosen local charity. These ranged in organizations that benefit children, families in need, the hungry, homelessness, mental health, elderly and education. To date through this campaign over $100,000 has been raised for human needs organizations all over the world. Deering Banjos nor Mumford & Sons take in any profit from this activity beyond knowing they are helping communities in the areas they have visited, which has been an honor to do!
To participate in the Great Britain banjo auction and make this one of a kind banjo your at the same time as helping a worthy cause head here! Happy Bidding!