We are pleased to give the spotlight to Clawhammer banjo teacher Evie Ladin!
A powerful performer, Evie is a patient and thorough teacher, connecting all kinds of students with traditional music and dance. She is skilled at making music very accessible, and her students comfortable with whatever their starting point. You can see how good she is through her many grinning students!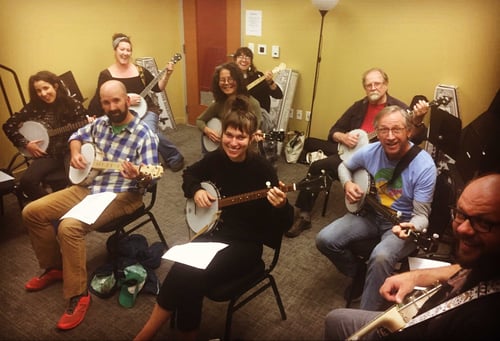 Evie regularly leads workshops in clawhammer banjo, old time harmony singing, clogging, square dance and more, to students, communities, professionals.
As much as I focus on performance, sharing my skills through teaching has alway been a part of my professional practice. In that I mostly learned through oral tradition, but have studied some music, I really enjoy reconnecting people to the basic practice of making music with others, in a natural, participatory way, that is more circular than linear. The banjo is a great entry to playing with others, and for finding success on an instrument relatively quickly, and I think I'm good at meeting people where they are and giving them the confidence to join in.
Here are all the ways to find her as a teacher:
Private banjo lessons in the San Francisco Bay Area: evie@evieladin.com Website: www.evieladin.com.
Group Lessons (Rank Beginner & Slow Repertoire) at Freight & Salvage in Berkeley, CA. 6-week Series' happen throughout the year (Evie takes the summer off for camps & festivals).
Beginner: https://www.eventbrite.com/e/clawhammer-banjo-for-the-rank-beginner-wevie-ladin-tickets-83930597677
Repertoire: https://www.eventbrite.com/e/clawhammer-banjo-slow-repertoire-wevie-ladin-tickets-84062935503
Evie offers Deering Goodtime Banjos to students for rent or purchase. Many beginners are happy to have this affordable instrument to start learning.
The Goodtime Banjo filled a gap in the market for a decent, playable instrument to get started on. It's been great to have an affordable entry level instrument to recommend to students, and to have on hand as rentals for people to try. Many beginners were buying cheap random internet banjos that just are not as solid or playable, because they were not ready to commit to a more expensive instrument, and didn't know what the difference was. I introduce so many new students to this instrument, which they use for years before upgrading once they gain more facility and know what kind of sound they'd like.
Online at Peghead Nation from anywhere in the world! Bonus - you can use the code "EvieL" for a FREE month.
Camps & Workshops: Evie teaches workshops while doing concert tours and loves teaching at music camps. You can let her know if there's a camp where you'd like to see her in person, or in her travels. Keep up with her on facebook and instagram to see when she may be performing or teaching near you! Full tour here.
Thanks for all you do in sharing the joys of playing Clawhammer banjo Evie!