There were a lot of great albums that featured the banjo in 2021 and we're sorry we can't list them all here, but here are some that stood out to us here at Deering. Myself (David Bandrowski), Jamie Deering, and Jamie Latty each made our selections and you can read about and listen to some of them here. Be sure to let us know of your favorites in the comments at the bottom of the article.
David Bandrowski - Deering Banjo Director Of Marketing
Justin Moses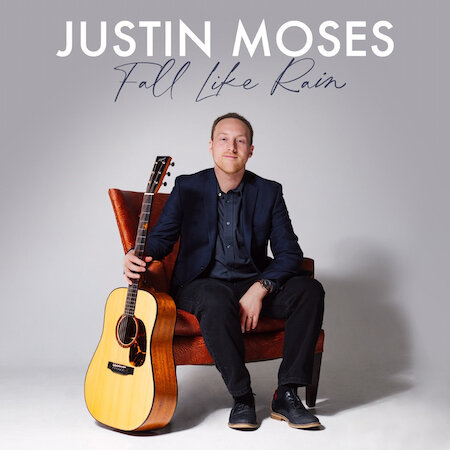 Fall Like Rain
Justin Moses is an incredible multi-instrumentalist who kills on whatever stringed instrument he picks up. On this album he is playing acoustic guitar, banjo, mandolin, fiddle, and Weissenborn. When I first heard this album I heard the banjo and thought to myself "wow… this is some fantastic traditional bluegrass banjo playing! I wonder who is this?" Upon research I found out it was Justin. Wow! How can someone be so good on so many instruments! He's not just capable on each instrument. He's up there with the best of them on each. Justin assembled a who's who of bluegrass all-stars for this recording including, his wife Sierra Hull, Dan Tyminski, Del McCoury, Shawn Lane, Stuart Duncan, Bryan Sutton, Cody Kilby, Barry Bales, Michael Cleveland, Jason Carter, Jerry Douglas, and Thomm Jutz. This album was recorded perfectly and you can hear each instrument at their very best.
---
Chris Pandolfi
Trance Banjo
Chris Pandolfi's "Trance Banjo" album is definitely experimental and I love it for this. I've personally tooled around with banjo and beats/samples/etc. for a while but never been able to pull it together. Chris did it. Except for Stuart Duncan on fiddle for 2 tracks and drummer Nick Falk playing live drums on 4 tracks, Chris laid down all of the other layers. This includes beats, samples, and other electronic sound layers. The result is an extremely lush soundscape that features acoustic banjo as the lead. As always, Chris' banjo playing is stellar. I found myself listening to this record a lot this past year and always finding something interesting in it.
---
Apoorva Krishna featuring Ryan Cavanaugh
Intuition
The recording "intuition" by Apoorva Krishna who is an accomplished South Indian violinist features one track with banjoist Ryan Cavanaugh (Timeless). This entire album is excellent and I highly recommend taking a listen to it. Apoorva has 8 original compositions that feature her Indian classical influences and creates a fusion of various styles of music from around the world such as jazz, latin, flamenco, and bluegrass. Ryan was recommended by none other than master guitarist John McLaughlin for this project and the track Timeless that features Ryan is fantastic. Hear Ryan rip it up on top of Indian rhythms and percussion. It is fantastic. Possibly my favorite banjo track of the year. Hopefully we'll hear more from Ryan in 2022.
---
Rhiannon Giddens with Francesco Turrisi
They're Calling Me Home
Rhiannon Giddens continues to put out fantastic new music. Her record "They're Calling Me Home" she put out this past year with her partner Francesco Turrisi is a mix of original songs and traditional songs with with a refreshing new take. Rhiannon and Francesco recorded this in a studio outside of Dublin (they currently live in Ireland) during the pandemic when herself and Francesco, another expat, couldn't easily go home. Both Rhiannon and Francesco play banjo on various tracks on this recording as well as viola, accordion, frame drum, hand drums, cello, and more. They bring in Congolese guitarist Niwel Tsumbu and Irish traditional musician Emer Mayock on flute, whistle, and pipes to fill out the sound on a few tracks.
---
Bennett Sullivan
Eager To Break
Bennett Sullivan's debut record as a songwriter "Eager To Break" is a fantastic listen. Bennett plays banjo, guitar, and synthesizers on this and is joined by producer Sam Howard on vocals, upright bass, and electric bass. Bennett plays a mix of 3 finger banjo and clawhammer banjo on all but one track. Bennett really gets some interesting tones out of his banjo playing creating a really fresh sounding recording. On "Internal Joy" there are a few tracks of a muted banjo lick going on that an interesting counterpoint line mixed with bass and synthesizer it really works. Listen with headphones or a pair of good stereo speakers to get the full experience.
---
SPECIAL MENTION
Punch Brothers
Hell On Church Street
Lastly I have to make a special mention of the pre-release of the Punch Brothers' record "Hell On Church St.". 4 tracks have been released so far and the full release is scheduled to come out in early 2022. This is a remake of Tony Rice's incredible Church St. Blues album. The Punch Brothers attack it with the same originality and fierce playing that Tony Rice did. This isn't a "cover" of Tony's record. The opening track "Church St. Blues" is an incredible fresh arrangement of one of my all time favorite bluegrass songs. This is an extremely tasteful and moving tribute to the late Tony Rice. Be sure to look out for the complete album in 2022!
---
Jamie Deering - Deering Banjo CEO
Nefesh Mountain
Songs For The Sparrows
My 2021 Best Albums have to start off with Nefesh Mountain's album Songs For the Sparrows . I mean, wow! It is hard to put all the reasons I love this album into a few lines. When I first got a copy in the spring of 2021 I kept it in the CD player in my car so I got to hear it daily. Two qualities stick with me when I think of Nefesh Mountain and especially Songs for the Sparrows. They are: the strong playing style of Eric Lindberg, he brings such a warmth out of every instrument he plays, and then the tight vocal harmonies of Eric and Doni together. I am hard pressed to pick a favorite song, but would have to say "A Sparrow's Song" and "Tree of Life" stick with me most. Especially after the last two years the world has had. Then they throw in the instrumentals "Big Mountain" and "Suite For A Golden Butterfly" that let your mind wander to beautiful places. Many heavy hitters such as Jerry Douglass, Bryan Sutton and Sam Bush joined them on the album. Their playing styles went together into a smooth tapestry of soulful bluegrass.
---
Dropkick Murphys
Turn Up That Dial
Another Best of 2021 takes us to a completely different genre. Dropkick Murphys TURN UP THAT DIAL. This one is special to me from the significance of when I got it. I bought when they played PetCo Park here in San Diego in October 2021, one of the few concerts I've attended since March 2020. I had no concept of just how much not going out to shows was weighing on me until that night. From the raw energy of Dropkick Murphys to the exhilaration of the audience dancing, moshing and singing along, it was reviving. They played a handful of their new songs from TURN UP THAT DIAL that night and I got the album on vinyl to take home, stoked to listen to them again. I dig the whole album and it brings me back to that show when I listen to it. The songs that grab me the most are "Queen of Suffolk County" and "I wish you were here". You can hear the bright rhythms of Jeff DaRosa on his Dropkick Murphys Tenor banjo in several songs throughout the album. They have been a prolific Irish Punk Band out of Boston since 1996 and are true to their roots in this new album.
---
Tony Trischka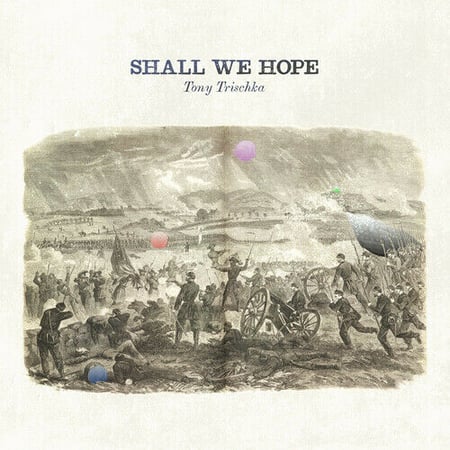 Shall We Hope
Last and by no means least for Best of 2021 is Tony Trischka's Shall We Hope! I was fascinated by the historical journey of this album. When I got to sit down and listen to it, it was a lot like listening to a play. The songs, styles of playing, words and sounds take you to a time long ago and bring it to life. Songs like "General", "I know Moon-Rise" and "Leaving This Lonesome Land" , "Soldier's Song" and many more are each uniquely their own and paint a picture as you listen. Tony gathered wonderful musicians and vocalist for this album including Michael Daves, Guy Davis, Phoebe Hunt, John Lithgow, Maura O'Connell, and Catherine Russell, who each brought raw emotion and realness into the album. The level of strife and very real situations of the era, and what American's fought for together, is brought to the forefront to be remembered. I appreciate that immensely. And as if it needs to be mentioned I always love hearing Tony on the banjo!
---
Jamie Latty - Deering Banjo COO
Bela Fleck
My Bluegrass Heart
Bela Fleck's "My Bluegrass Heart" blows my mind every time I hear it. It is a veritable who's who of bluegrass mastery, packed into nearly 20 songs of pure genius. I am a sucker for two things in music; modern production values and progressive elements, of which this album takes a fat Sharpie marker and ticks both boxes.
Do not be fooled. This is not a banjo album in the traditional sense. Sure, Bela's masterful fingerprints are all over it. But Bela is smart and understands the value of surrounding himself with the best musicians in the world to produce what I would describe as a clinic in musicianship. From the opening seconds of "Vertigo", to the closing moments of "Psalm 136" we a re treated to the likes of bluegrass legends Jerry Douglas, Sam Bush, Edgar Myer and Chris Thiele. But Bela doesn't rely purely on experience, and consciously weaves in stars of the next generation of musicians. Molly Tuttle, Billy Strings and Sierra Hull are flawless and are all given the chance to shine in their respective spaces. And shine they do!
The production is just outstanding. The overall sound is natural, clear and organic. It is layered beautifully so each listen offers little glimpses into each instrument. Listen with a good pair of headphones and just get lost on a journey, fueled by stunning compositions, time signature changes, tempo changes and effortless interplay between some of the greatest names in acoustic music. I promise every time you listen, you will pick up something new that you didn't hear last time around.
Clinton Davis
If I Live And I Don't Get Killed
By contrast, San Diego musician Clinton Davis' album "If I Live and I Don't Get Killed" was released last year on Tiki Parlor Recordings and is almost the polar opposite. Recorded at home during the pandemic, Clinton describes the process of recording as the ultimate form of social distancing. As an accomplished musician, Clinton plays all the instruments on this album, including banjo, mandolin, guitar, and piano all of which feature heavily on this album.
For me, particularly as someone who was not born here, the album took me across the lands of old America. The opening track Old East Virginia highlights Davis' soaring vocals over the top of a solo open-back style banjo. Meanwhile, Old Louisiana Blues is Clinton at his upright piano. Pairs well with a good whisky.
From clawhammer open back to blues guitar to honky-tonk piano, this album really made me feel like sitting on the porch, overlooking the rolling hills of Tennessee or North Carolina. It is not a busy album. It is stripped down to its core instruments and Davis does a great job of meeting the balance of playing only what the song needs. As such, it reveals every nuance of the instruments that Clinton uses. And sometimes, this is the best way to be.
A really great and enjoyable album that certainly played heavily on my list through the latter part of 2021.
Check out our Spotify playlist!