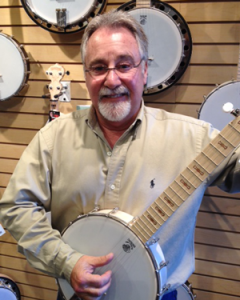 As the new guy on the Deering sales team, I thought that it would be appropriate for me to write about my transition from playing the guitar to now learning to play the banjo. I have been playing guitar for many years both personally and professionally, always making it a fun experience because of my love for the instrument. I'm the type of person that enjoys continually learning more about my instrument, whether it's practicing new scales, learning a new tune, or attempting to learn a completely new genre of music. I believe that you can always continue to improve your talents, and that it's never too late to start learning something new!
The banjo has been an instrument that I have always enjoyed playing when I was working in a retail music store, and even more so now that I am working at the Deering Banjo Company. When I say play though, being a guitar player, it was only a few basic chords and of course lightning fast licks played with a guitar pick. I sold a lot of banjos in my time playing the first eight bars of "Foggy Mountain Breakdown" using a guitar pick and strumming the frosted head making it sound like a freight train!
My Goodtime banjo is so lightweight and has a small, comfortable playing neck, that it makes learning easy and lots of fun! Being a rocker, I was never into finger picking, which is why I played everything with a pick. After acquiring my first Goodtime openback banjo, I decided that it was time to start learning to play the banjo using fingerpicks. I remember the first time I put those picks on my thumb and fingers and started to learn how to play a forward roll, it was like skiing for the first time! My fingerpicks were smashing into each other, clanging and getting stuck on top of each other, not to mention my thumb pick getting hung up, wrapping around the strings! I learned that Earl Scruggs had a hard time learning to play with fingerpicks so I decided I was in good company. I was determined to get it right, which I finally did with a little bit of practicing. It got easier and easier the more I did it.
Just like in playing the guitar, there are many different playing styles to choose from, so the first decision I needed to make was what style of playing would I have the most fun learning. A simple search on YouTube turned up more than enough examples to make my choice. My favorite turned out to be the clawhammer style. As luck would have it, I don't have to use fingerpicks with this style of playing.
I began watching videos, trying to play along and realized that like anything worth learning this was going to take some time to master. I would wake up in the morning and grab my Goodtime banjo and start my "bum ditty, bum ditty," hopefully not waking up my neighbors, thanks to my bridge mute.
I always keep my banjo on a stand in my living room, so that I can pick it up and practice all the time, repeating a small piece of the big picture until the whole episode of "The Walking Dead" was over. My guitars are definitely taking a back seat to my new love… the banjo. I have enjoyed every step of the learning process so far, improving each day with a smile on my face. I was told by a co-worker at Deering that learning to play clawhammer style banjo takes patience and practice, and that one day you catch the natural rhythm. That's the day I am looking forward to and having fun along the way.