It all started this summer during the Gentlemen of the Road charity banjos campaign, benefiting various human needs organizations throughout the US and UK. As the summer came to a close and the auctions were completed Mumford & Sons asked if we could create similar charity banjos for their tour Down Under this November.
We were happy to make this happen and have built one custom Goodtime Banjo for each city of Mumford & Sons Australia/New Zealand tour - Brisbane, Auckland, Melbourne, and Sydney - with proceeds going to four equally amazing and noble organizations doing much to help those in need.
These one of a kind custom banjo are crafted with a hard rock American maple neck, a violin grade maple rim and matching resonator, and a true black finish. They are remarkably light,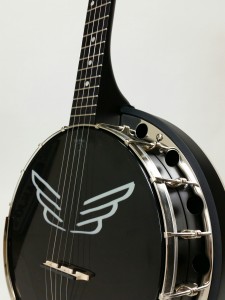 weighing only 5 ½ pounds; about the same as an acoustic guitar. The drum heads feature the Mumford & Sons 2015 tour wings artwork and each will be personally signed by the band the first day of the tour in Brisbane!
In addition, the pegheads feature the outline of majestic Australia or New Zealand and each city's location, proudly burned into the wood! The banjos are American made, right down to the custom banjo heads made by Remo in California. As part of the auction these Down Under Banjos will also come with a Deering hardshell case.
You can bid on these here.
For the Brisbane, Australia Banjo, proceeds will go to "The Australian Red Cross" who bring relief in times of crisis, care when it's needed most and commitment when others turn away. The Red Cross is there to give immediate and practical help. They are among the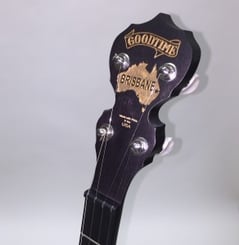 first to arrive and last to leave when disaster strikes, and an important part of our local communities. People need more than basic survival mechanisms, they need to be nurtured and emotionally supported. They need their dignity. The Red Cross cares for local communities in Australia and Asia Pacific, training people in first aid, motivating the next generation to make their community a better place, and with the help of half a million Australian blood donors, they save lives. They are impartial, neutral and independent, there for people in need, no matter who you are, no matter where you live. We are glad they are here and to support their efforts with proceeds from the Brisbane, Australia Banjo Auction going to them.
The Brisbane Banjo Auction is live as of November 1st, and will run until November 8th Australia time!
For the Auckland, New Zealand Banjo, proceeds will go to "Auckland City Mission"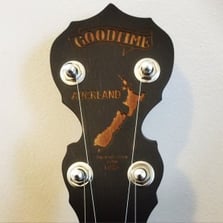 who since 1920 have been providing health and social services to people in the community in desperate need, and ensuring their basic needs are met. At the same time, they are committed to addressing the larger issues those they work with face, to enable them to have the opportunity to move forward and fully participate in the community. They are only able to do this through the assistance of their supporters. Each year the City Mission helps tens of thousands of people, with over $1.3 million worth of food distributed, 132 homeless people housed, 292 elderly assisted, and more, just in the last 12 months! We are thrilled they will be the beneficiary for the Auckland, New Zealand Charity Goodtime Banjo!
The Auckland Banjo Auction will be live November 9th -16th
For the Melbourne, Australia Banjo, proceeds will go to "Feed Melbourne" who are an annual fundraising appeal conducted by Leader Community Newspapers, food charity FareShare, and the Lord Mayor's Charitable Foundation. Every dollar helps individuals and families in Melbourne who are struggling with food insecurity. Food security is a growing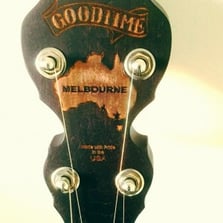 problem in Australia; this year over 370,000 Victorians will reach a point where they will not be able to afford to buy food. The face of food insecurity is diverse and spans generations, from students to the elderly, the working and the unemployed, to full time care givers and low income parents struggling to provide their families with three meals a
day. All funds raised by the Feed Melbourne Appeal are granted to Melbourne food service charities that provide meals and food hampers, and run soup kitchens, drop in centres and open pantries to assist people in need. All donations of $2 and more are tax deductible. Every single dollar donated to the Feed Melbourne Appeal goes to a food relief charity to help people in need. For all they do we are very happy they will be the beneficiary for the Melbourne, Australia Charity Banjo Auction.
The Melbourne Banjo Auction will be live November 11th – 18th
For the Sydney, Australia Banjo, proceeds will go to "White Ribbon" who is Australia's only national, male led Campaign to end men's violence against women with the vision of "All women live in safety free from all forms of men's violence". Globally, White Ribbon is the world's largest male-led movement to end men's violence against women. Their Mission is making women's safety a man's issue too. The campaign works through primary prevention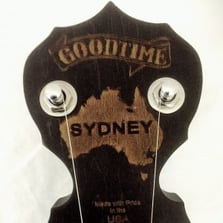 initiatives involving awareness raising and education, and programs with youth, schools, workplaces and across the broader community. White Ribbon Australia observes the International Day of the Elimination of Violence against Women, also known as White Ribbon Day, annually on November 25. White Ribbon Day signals the start of the 16 Days of Activism to Stop Violence against Women, which ends on Human Rights Day (Dec 10). However the campaign runs all year and is evident across the community. With all they accomplish in the name of safety for women and families we are thrilled proceeds for the Sydney, Australia Banjo Charity Auction will go to White Ribbon Australia!
The Sydney Banjo Auction will be live November 13th – 20th.
Best of luck in winning these banjos and helping a worthy cause at the same time!