We all have the memories and cherished stories of the first time the banjo came into our mind, and we were inspired to play. For some it was Pete Seeger, for others it was Earl Scruggs, or perhaps Bela Fleck. More recently it could have been Steve Martin or The Avett Brothers. For the 13 year old Greg Deering in 1963 it was The Kingston Trio. More specifically, their live Album Stereo Concert.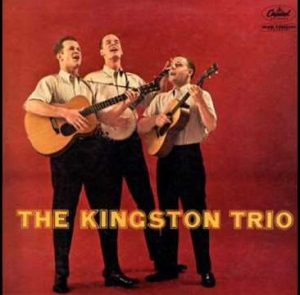 After hearing their debut self-titled album The Kingston Trio at a buddy's house, in which Dave Guard played an S.S. Stewart banjo, Greg instantly decided he needed to get a banjo and learn to play these songs. He began saving from his paper route, and picked up as many extra routes as he could, until he had enough to buy his first banjo that same year.
The Kingston Trio are an American folk group that helped launch the folk revival of the late 1950s to late 1960s. Their first hit song, which you have likely heard, was "Tom Dooley" in 1958. The original lineup of Dave Guard, Bob Shane, and Nick Reynolds rose to international popularity, fueled by unprecedented record sales, and helped to alter the direction of popular music in the U.S.. Not Surprising, the group still ranks after half a century in the all-time lists of many of Billboard's cumulative charts, including those for most weeks with a number 1 album, most consecutive number 1 albums, and most top ten albums to name a few.
The Kingston Trio is now composed of George Grove, Bill Zorn and Rick Dougherty. Under the direction of the only surviving original member Bob Shane, now sole owner of the band, they have released original CDs and DVDs, and continue to tour extensively.
Greg & Janet Deering were out in Massachusetts recently for Banjo Camp North and had the rare opportunity to meet with the collector who owns the very S.S. Stewart banjo played by Dave Guard, and shown on the album covers of the band's fist two albums. Not only that, but Tom Guard & Josh Reynolds, the sons of Dave Guard and Nick Reynolds, also got to join them for this occasion.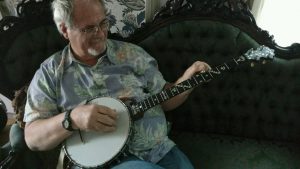 As Greg put it reflecting on the moment, "I played the banjo introduction to 'Three Jolly Coachmen' and everyone in the room went 'whooow'. It was the exact sound for that song! Josh and Tom then started singing the song and I played along with them. It was pretty magical moment to play that banjo part and have it sound JUST like the record, as it was THE banjo. Just incredibly special."
If you could have the chance to play the banjo that inspired you to play which would it be?
Tell us in the comments below!