Setting out on a road trip that would cover over 10,000 miles and hit all of the coasts of the USA, including going into Canada, is an exciting and daunting adventure! We knew we would be heading into new areas for us and sharing banjo love all over, but had no idea just how much of an amazing time it would be!!
With Arthur Hancock, banjo player, teacher and jack of all trades from Kentucky, at the helm of the Banjo Bus there has been no shortage of good ideas of adventures and places to discover with banjos to share. He would like to say he is grateful for this opportunity to combine two of the things he enjoys most in life, banjo and road trips.
Everyday Arthur locks himself in the back room and practices both 5-string banjo and guitar. This I must say has gotten me to join in the routine of honing banjo skills, something I myself have needed to spend more time doing.
No matter where we have gone so far we see folks on a highway light up and wave as we drive by. People walking on the street stop to watch the banjo bus drive by. Even when we pull in for the night to camp we have the camp site owners coming by to say hi and tell us their banjo stories, or neighbor campers asking for a show. We are of course happy to make friends and pick a few tunes for them.
So far there have been many highlights. It was something special to hear the banjo ring out over the Grand Canyon. That was what 30 other folks must have thought that day as well when they happened upon Arthur picking on the edge as I was videoing. Neither of us realized they were there until he finished his song and applause erupted behind us! What a nice surprise.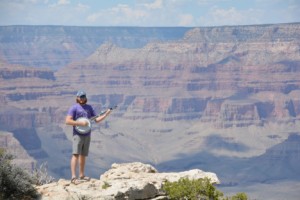 Visiting Waters Edge Campground on Grand Lake in Oklahoma was a treat. Not only is it quite lovely there, but after pulling in we quickly discovered the owner of the camp was a really nice man and been learning to pick some tunes on the old 5 -string Arthur played him and few tunes and we got to learn all about the Grand Lake. Here is a photo of him and me with the Lake behind us. Definitely recommend this campground should you be traveling through the North East of Oklahoma.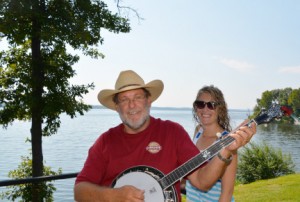 Prior to driving the banjo bus Arthur spent all of his life helping his family raise Thoroughbred horses in Kentucky. We were lucky enough to have our trip take us through his home state and got to visit his family farm in Paris, KY. It is easy to see where his love for music comes from, his father Arthur Hancock the III, who has had music success of his own and still gets quite a bit of joy out of jamming with his son and friends. Thank you to the Hancock family for your wonderful hospitality.
The last night we were there we threw a Bourbon County Banjo Night, presented by Deering Banjos at Clay's Downtown Restaurant in Paris. What a night! Several talented folks came out and took part and people who attended got to check out all of the banjos we brought. It was a memorable and enjoyable night of community and music. After the jam a group of us there grabbed a banjo and took a Banjo Bus photo that you can see below!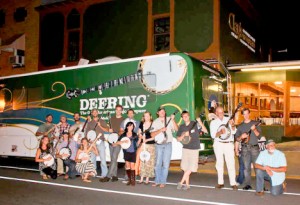 I cannot say enough about the Gentlemen of The Road Stopovers so far. Here is a short interview about the spirit of these events. From personally attending and experiencing each they are all Mumford & Sons were wanting them to be and more:
The communities get so involved and the 30,000+ fans that travel from all over to attend are just as excited as well as friendly and respectful of the new town they are visiting. Our part in these events is to give festivarians the unique opportunity to pick up the banjo, often for the very first time, and have a free banjo lesson. It has been delightful to see people of all ages get so excited about seeing and holding a banjo. After their lesson they walk away amazed and excited about the instrument, grateful for the encouragement that they can play music. Bringing this to people from all over the states and even other countries has been extremely rewarding for us and we are honored to be contributing to the Gentlemen of the Road Stopovers in this way. Here are some memorable photos from the North American Stopovers so far in Simcoe, Canada and Troy, Ohio:
We are onto the next part of the Banjo Bus Road Trip which is taking us to Guthrie Oklahoma for the Gentlemen of The Road Stopover there, followed by the American Banjo Museum opening of the Modern Banjo displays on September 8th in Oklahoma City. Admission will be free for this museum event and live musicians performing there, come on out and join us!
Stay tuned for the next Banjo Bus update and come say hello if you see us in your neck of the woods! You can also follow our adventures on Instagram @Deeringbanjos or #BanjoBus, as well as on Facebook and Twitter!
All The Best,
Jamie Deering