Greg and I met Eric Shi at the China Music Trade Show in Shanghai in 2016. I had realized that to get banjo interest in China we need a banjo book printed in Chinese that they could read. I had just visited book publishers to see if any of them had a banjo book and none of them did. When I returned to Ivan's Music exhibit where our banjos were on display, Eric introduced himself to me and told me he plays a Deering John Hartford banjo. He said he used a photo of his banjo on the cover of his new banjo book, and low and behold he showed me the first banjo book printed in Chinese and it even had a DVD in the back of it! It was a dream come true!
Eric Shi and his friend played banjo with Greg Deering in our exhibit at the Shanghai Music Show and drew quite a crowd of interested onlookers. Banjo is clearly a new musical instrument in China and yet there is a tremendous interest and curiosity about the American banjo.
Eric came to the IBMA show in Raleigh in 2017 and I had the pleasure of introducing him to Jens Kruger and Mark Johnson. He toured America with the Japanese Bluegrass Band, Bluegrass 45, that Fall.
Eric has gone on to record some very nice music videos playing banjo for Youtube in China. He is teaching banjo and promoting the instrument, playing music and writing new banjo music for the Chinese musical scene. We look forward to hearing many more great things from Eric Shi.
Can you describe the time you first heard banjo music and how that influenced you?

I don't remember when I first heard banjo music, but I'm sure I heard it in an American movie, as well asTom and Jerry. There was this American movie in which two or three banjo players showed up rehearsing with banjo. That was the first time I saw a banjo and I thought it was such a wonderful instrument and it looked cool! The most attractive thing to me was the three finger Bluegrass banjo. I loved playing different instruments when I was a little kid and the music by banjo is one of the best.
How old were you when you started playing banjo?
I began to learn banjo in 2010 at the age of 31 when I taught guitar full-time.
Tell us about how you started learning to play?
In 2010 I met my teacher Sab Watanabe Inoue in Shanghai during Music China. He was a banjo player ofBluegrass 45(a Japanese bluegrass band). He had just finished playing and was taking a break. He was very friendly and answered all my questions about banjo. And I decided to buy a banjo in Music China at once. Sab helped me pick one and taught me how to start learning by email. At first I learned with Earl Scruggs' books. A few years later, I found it difficult to adapt it to Bluegrass, so in 2013 Sab introduced another style Melodic Style and Bill Keith. That year Bill Keith had a workshop tour in Japan and I attended it. I was lucky enough to be taught by him in person. He taught me the way of how to construct 3 finger from which I benefited a lot.
I am very grateful to my teacher Sab Watanabe Inoue because he not only taught me banjo, but also guided me in the promotion of banjo.
Tell us about the process of publishing your banjo book?
In 2013 I met the Mr. Pan, the boss of麦书文化艺术有限公司, a company that specializes in making music books which sells quite well in Taiwan and the mainland. I talked about writing an introduction book to banjo with him and he was very interested, as there wasn't a Chinese banjo book then. Soon we signed an agreement in publishing the book. I started writing it in 2013, recorded the teaching videos in 2014 and it was published in Taiwan and Hong Kong in 2015.Later it was also published in the mainland.

How long did you work on writing your banjo instruction book?
It took me about half a year to write the book. In 2013 I didn't have a deep understanding of banjo, so I referred to many foreign books. To avoid going far away from Bluegrass, I concentrated on the three finger style of Earl Scruggs. Later I got to know Bill Keith, and learned melodic style. It was not until then that I came to realize there was such an important system in Bluegrass banjo.

What is the current banjo scene in China?
Because there are different types of banjos, playing style would be variable. Basically Chinese don't know exactly how many strings a banjo has and what type is suitable for a beginner. So there isn't a standard shape in Chinese' concept. We need to provide a standard shape for them and as far as I'm concerned, 5-string bluegrass banjo is the best one. Last year alone, I uploaded many bluegrass banjo videos that I recorded on the Internet. I found lots of people starting to know about bluegrass banjo and began their study. I don't play anything else than three finger banjo, so I concentrate on bluegrass banjo. Every month there've been people asking me about learning it. These people saw the video and it took a long time to find me. Though there are only a few, I think it's a good beginning
How many people play banjo there?
It's difficult to count the exact number of people playing banjo in China. As far as I'm concerned, there are a majority of people playing banjo in Southeast Chinese provinces like Yunnan and Guizhou as well as the minority groups in Xinjiang. There are lots of players in big cities too. However I know few three finger players so far. A few more play clawhammer. Most Chinese players play the banjo as guitars.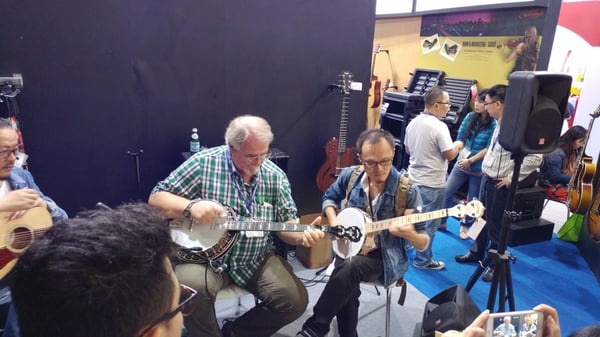 Tell us about your "Banjo Home" booth at the Music China Show?
In 2017 "Banjo Home"first came into being in Music China in order to let banjo lovers who I stay in touch with on the Internet have a place to meet. It's also the first time we have the banjo lovers together. What's more, I'm planning to give an exhibition of the banjos I developed within two years though the products aren't quite mature so far. I took several interesting banjos to China Show this year, but it wasn't as good as I'd expected. Though friends playing the banjo around China came to the booth for a gathering, we didn't get lots of attention.
What are your goals for the future of Banjo Home, and your banjo book?
"Banjo Home"mainly aims to provide Chinese banjo lovers with a platform to buy banjos. We introduce good foreign banjo brands to buyers and provide ways for them to buy. For most Chinese, foreign brand banjos a too expensive for beginners. Thus, I develop and cheap products to meet their needs. My future goal is to build a professional platform for learners to buy and learn how to play banjo. Currently there aren't enough human resources. I need more people to take part in it. This year my second banjo book is about to be published. I finished writing it last year. The content is easier than the first one. Banjo teachers can use this book to teach. As students are mainly children, so I chose many Disney children's songs, hoping to let children fall in love with banjo and Bluegrass Music.

How do you feel the banjo fits into the culture of China?

The sound of banjo is like some Chinese traditional instruments, such as pipa(4-stringed Chinese lute) and ruan (a plucked stringed instrument).But because of different music style, the actual playing effect is quite different. Many Chinese play the banjo in the way they play the guitar. They adapt banjo tuning that fits the pentatonic scale, thus the playing effect is very like a Chinese local instrument. Not many people like pure Bluegrass Music. But if combined with country music, more people will like it. Country music is comparatively softer which fits Eastern ears better. Country music use s a large amount of the pentatonic scale, so it's more acceptable.This means in order to make more Chinese fall in love with banjo, we need to make more banjo music for Chinese people. This music is definitely not pure Bluegrass Music. We have to combine it with different music styles. I found tht Bela couple made lots of attempts. They set a good example for me. After I returned from IBMA last year, I've been making attempts in music, which includes adapting pop songs as well as writing my own songs. So this year less time is spent in developing banjos and teaching.