Our Meet The Maker series rolls on as we introduce 24 year old Austin Prince. Austin is a true local, living just a kick and a push on a skateboard from the factory and has worked at Deering for two and a half years in the Resonator department. If you have a Goodtime with a resonator, this is the man who built it for you!
Tell us about your job some of the things you do day to day. I am the Goodtime resonator guy! I press, slot, bind and sand out Goodtime resonators. I make approximately 100 a week.
Do you have any prior experience working with musical instruments? Before coming to Deering, I used to work in the shipping department at Taylor Guitars.
How did you find yourself working at Deering and what is it you enjoy the most about working here? I started at Deering to keep my occupation in line with music. The best part is the laid back atmosphere and the good people.
What instruments do you play? Guitar, Banjo and Bass
Are you in a band? If so, tell us about it. Yes, I play guitar, banjo and lap steel in a local rock and roll band called Hit Dog Hollar.
Where can the public find more of your music? All major online distributors (iTunes, Amazon etc) or by visiting www.hitdoghollar.com.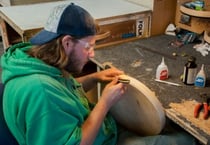 What do you think differentiates Deering from other musical instrument manufacturers? Without a doubt, the quality of craftsmanship and the fact that we make everything right here in the USA.
What is your favorite model in the Deering line up and why? I personally prefer the custom Goodtime that I built for myself. It is all matt black with a black head and unplated, raw hardware so it has a great "worn in" look. I also fitted it with a Kavanjo which is perfect for live shows.
Outside of Deering, what are your main interests in life? I love hip hop music and craft beer. This is San Diego after all!
Anything else you want to say about your experience at Deering? Its just great being able to work with my hands to create something.