Greg Deering is hitting the road on a three week tour, and hosting six in banjo workshops at a handful of Deering dealer locations.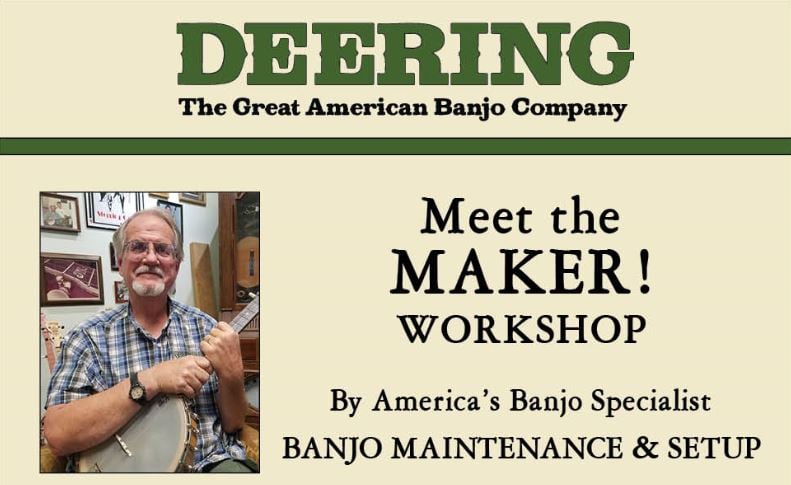 Greg will be hosting his Meet The Maker workshops at a handful of locations, where he will share stories of artists and events spanning across Deering Banjo Co's 43 years in business.
He will also demonstrate how to set up a banjo for the best sound, as well as offer maintenance tips to keep your banjo in great shape!
And as a special treat for anyone attending the Florida or North Carolina workshops, Greg will be joined by Mark Johnson (the creator of the Clawgrass style) and Terry Baucom (the Duke of Drive)!
Greg will be wrapping up his tour in Washington DC where he and his daughter, Jamie Deering, will take part in the NAMM Music Education Advocacy D.C. Fly In, visiting with their elected representatives on Capitol Hill to advocate for the right of every child to learn and grow with music.
We are very proud that Greg and Jamie will be representing Deering and the banjo community to fight for music education.
Deering Banjo Workshop Dates:
Thu, May 10th - Seven C's Music (w/Mark Johnson)
St. Petesburg, FL - 7-9pm
Mon, May 14th - Draisen Edwards
Anderson, SC - 6-8pm
Tue, May 15th - Lowe Vintage Instruments (w/Terry Baucom)
Burlington, NC - 6-8pm
Thu, May 17th - North Carolina School of Traditional Music
Durham, NC - 6-8pm
Fri, May 18th - Pickers Supply Music
Fredericksburg, VA - 7-9pm
Sat, May 19th - Turtle Hill
La Plata, MD - 11-1pm
(Once opened, right click and save image)