The Deering Banjo Company has launched the new Artisan Goodtime banjos – a beautiful collection of banjos offering a stunning aesthetic normally reserved for banjos at a much higher price point. And naturally, we are extremely excited!
And here's why!
One of the main reasons comes in the form of a major development within the walls of our R&D department.
At the center of the new Artisan Goodtime banjos is the Midnight Maple fingerboard - the result of over four years of research and development (as well as a great deal of patience) to produce a high quality, hard wearing fingerboard that is ethically sustainable, readily available in the US and that could be developed and manufactured in house. Deering has developed the technology to fully penetrate the tight grain of the rock maple, all the way through the wood. The result is a completely dyed, highly durable fingerboard, made right here in the US from an extremely readily available material.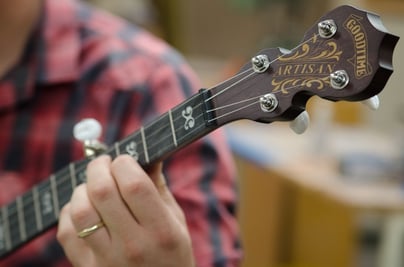 And the best part is that the natural grain of the maple shines through here and there, making every board a little unique. It is really very cool.
The Midnight Maple fingerboard is installed on the rich dark brown hard maple neck and comes to life thanks to elegant and eye catching vintage artisan style inlays. Meanwhile, Deering's 3-ply violin grade maple rim is carried through in the Artisan banjos, further enhancing the full, rich, sparkling tone that make Goodtime banjos so loved by all who play them.
The Artisan Goodtime banjos will replace the long standing Classic Goodtime banjo models. But fans of some of the favorite parts of the Classic Goodtimes need not worry! The Artisan Goodtimes will retain the planetary tuners, as well as the 5th string capo spikes at frets 7, 9, and 10.
This is a very exciting time for the Goodtime banjo, which turns 20 this year and we couldn't be more proud of the results. We truly believe you will love them as much as we do and we encourage you to check out your local Deering dealer to try one out.