At Deering, we pride ourselves on making quality instruments with attention to detail, instruments built to last. It's vital that the components we put on our banjos are given the same level of attention, and Advanced Plating has helped us do that for nearly 15 years. Located in Portland, Tennessee and led by Steve Tracy and his wife, Sheri, Advanced Plating remains one of our most vital partners, responsible for nickel plating our tone rings, tuner pegs, armrests, and more.
We recently got a chance to visit Steve and Sheri at their new 128,000 square foot facility, a move they made in late 2018 after a fire destroyed their downtown Nashville location. To say the new building is impressive is an understatement. Meeting Steve, it's easy to see why he's been so successful in this industry for such a long time. His excitement and passion about what he and his team do there is obvious as he points out a perfectly restored antique car in the showroom, even more so getting to see them in action. We followed a batch of our tension hoops through their entire journey at Advanced Plating.
After receiving a shipment, the rings are sorted and distributed to be buffed. Working carefully as to not catch the edge of the ring on the fast-moving buffer, they are stripped down and prepped for the next step. And it's the next step where the magic really happens. The rings get placed on copper wire and then dunked in large tanks of chemicals. Will, a part of the team at Advanced Plating for over ten years, helped explain part of the process.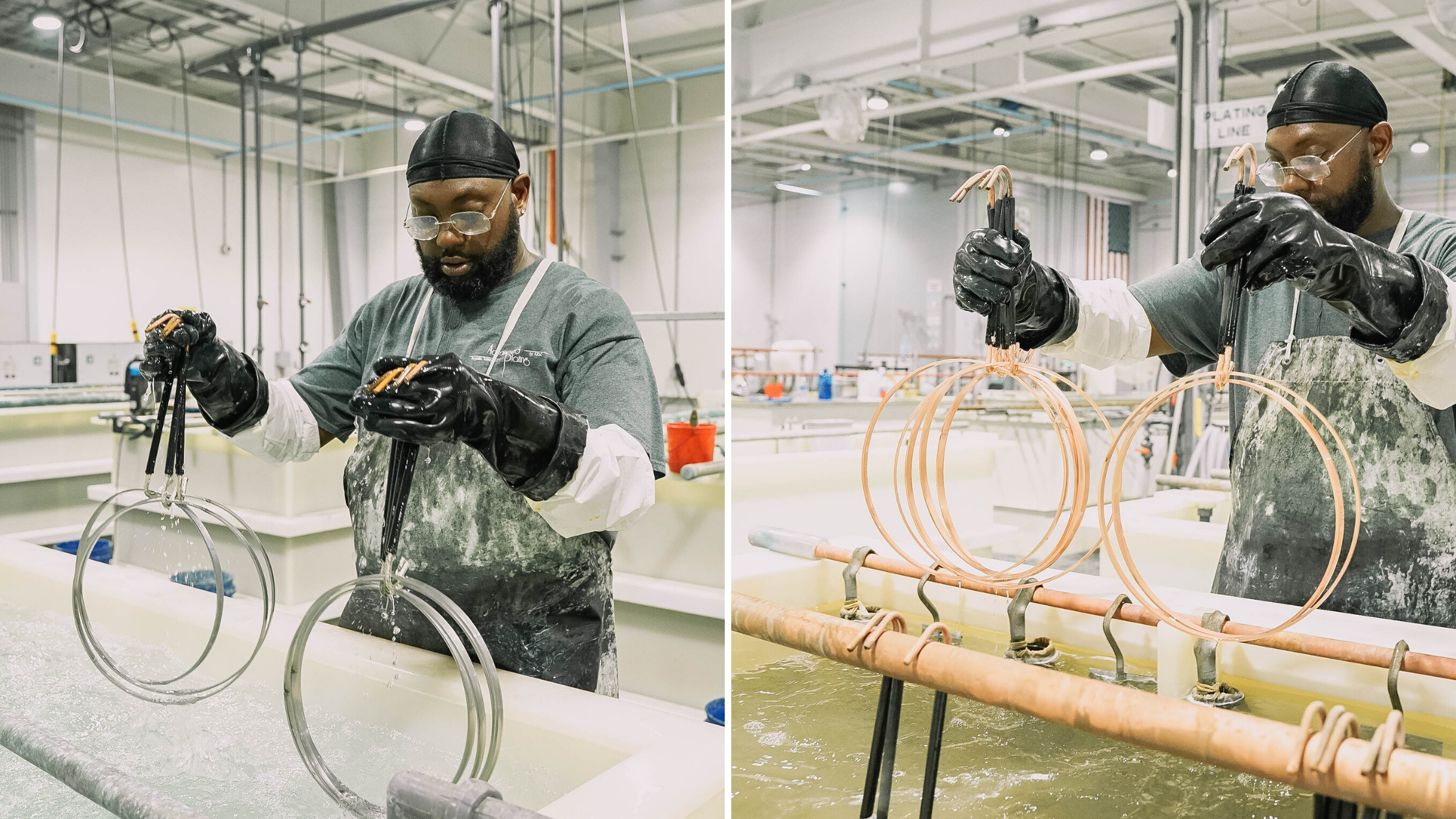 The chemical mix, temperature of the tank, and even electric charges all have to be just right to produce the kind of shiny metals Deering Banjo customers are used to. These particular tension hoops were placed in a tank of carefully balanced chemicals, giving the hoops a bright copper layer, which is used as an undercoat before the hoops receive their final coat of nickel.
Nickel has been the traditional finish for banjo metal parts for decades. It looks beautiful and feels great, but it does occasionally need some care and attention. We would recommend picking up our Care Cloths. The nickel polish cloth is impregnated with a nickel buffing compound and works great as part of a routine wipe down, or as part of a deep clean.
We also understand that some players have to deal with nickel allergies. If this is the case for you, you may want to consider our new wooden armrest collection to avoid prolonged contact with your arm when playing.
They were moved, and dunked, and sprayed like clockwork. After seeing them come out of buffing, it was hard to imagine metal could be shinier. But watching the finished rings get their final spray of clean water and dried off was really something special. Their plating process adds depth and color to the metals, but above anything else they produce components that will hold up overtime, and will look great while doing it.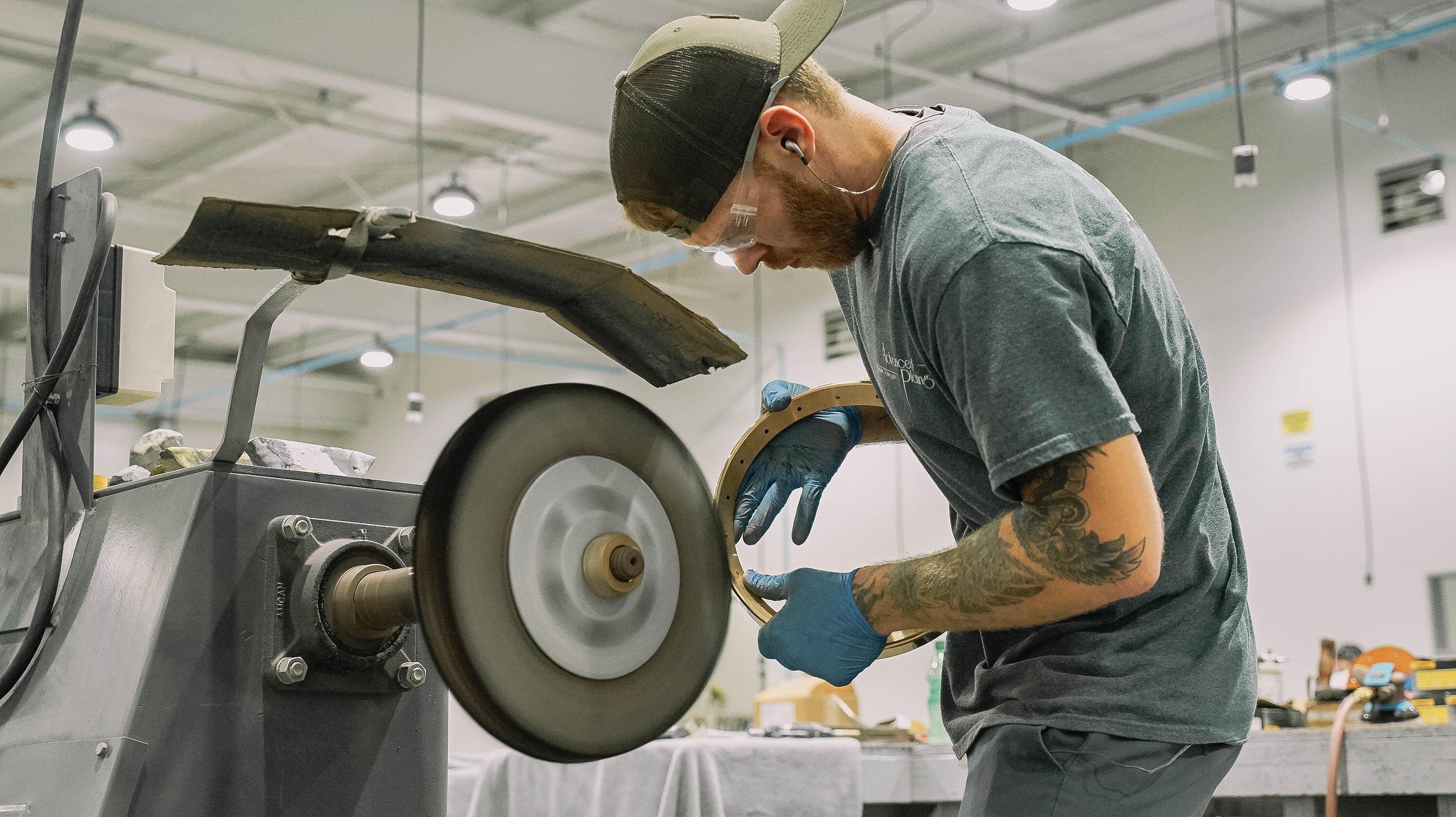 The care and precision each team member took with their job felt familiar. Just like at Deering, Advanced Plating is a family-run business that sets out to be the best in their industry. It creates a culture that allows people the time to do things right, and to do them better than anyone else. We are so proud to partner with Steve and Sheri at Advanced Plating. Getting to visit them in their new facility and listen to the people who work there talk about what they do with passion and pride was a great reminder that quality will always win over quantity.
To learn more about Advanced Plating, visit www.advancedplating.com or drop into their showroom!