We can feel the excitement in the air as the final preparations for our 40th Anniversary Celebration & Benefit Concert aboard the Star of India Ship are completed...and boy do we have some monumental surprises in store for you!
We also have news for all ticket holders of our 40th Event. By popular request the Founders of Deering Banjos, Greg & Janet Deering, will be giving a personal tour of the banjo factory at 1pm the day of the event! The tour will start promptly at 1pm, Saturday July 18th! The factory address is 3733 Kenora Dr. Spring Valley, Ca. 91977.
Please RSVP if you would like to attend this tour by calling Deering Reception at 619-464-8252 by 4pm PDT Friday, July 17th.
You can find out more about the 40th Anniversary Celebration here: http://www.deeringbanjos.com/pages/deering-banjos-40th-anniversary-celebration-benefit-concert
Doors at the ship will be at 6:45pm. Music and Silent Auction will start at 7pm!
Here is a sneak peek into just some of the items that will be up for bidding at the Silent Auction! This Sierra Banjo, our most popular professional level model of our 40 year history, will be signed by Jens Kruger and other surprise guests the evening of the Celebration! Our friends at Taylor Guitars have been immeasurably giving for this event and have donated this beautiful 110ce Taylor Guitar signed by Zac Brown!
Both of these treasures will be on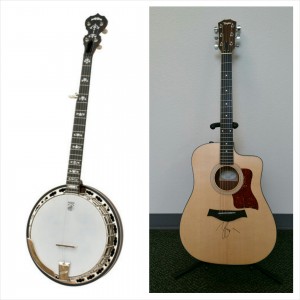 display and part of the evening's Silent Auction. Some lucky winners will go home with these on Saturday night! All Silent Auction proceeds go to benefit San Diego Music in The Schools through our event partner the San Diego Music Foundation.
If you do not have tickets yet head on over here and get them while they last.
We look forward to sharing this evening with you!