The tales of our collective adventures and misadventures with the banjo are many. We all have at least ONE.
This new section of our newsletter has been created so we can SHARE those "tale pieces" with one another. After reading this first entry, I hope you will all be inspired to send us your own story, and even a picture!
I will start the series with Bob Carmody's and my own misadventure on breaking a banjo string… and NOT having a spare!
Here is Bob's tale of woe:
I went to my Appalachian Music Group and oh poop I crashed and burned.
Now I am not a dolt with this stuff; yet, somehow I got my banjo so far out of tune that I could not get it back. As a good conservative, I will blame no one cept myself. As it was very noisy inside, I went to another room and tried to get it back. Sadly I froze on the string order and in process I broke el numero uno string. So I did the manly thing and picked up my Deering case and returned home. With a broken string what else could I have done other than eat the tea and cookies. (they don't drink coffee). Doesn't every real man drink coffee?
So that Bob would not feel too bad, I shared my own personal "broken string" story: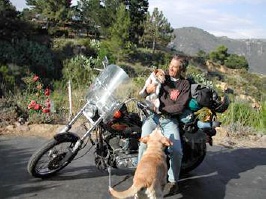 Ok, "like" (as in the California girl …) I NEVER break a string… So, I go on vacation with my family to visit my in-laws in Joseph, OR. This is a most beautiful little hamlet in the mountains of Oregon. We have to DRIVE 6 HOURS from the airport to get there. I took my goodtime banjo to practice. I am sitting in the idyllic back yard setting by a beautiful flowing brook, tuning my banjo. I break the high G string. And to make matters worse (since I NEVER break a string) I don't have a spare set with me. And to make it even WORSE, it's the FIRST day of our vacation. Talk about OH POO!
So, I "get me" into town praying that one of these tourist stores will have a set of, OF ALL THINGS, banjo strings. Well, the banjo gods must have been smiling on me. There was ONE TINY store that had just about everything in it. On the wall there were a few Chinese guitars but no banjos. But low and behold…wait for it…on the wall there was ONE SET of banjo strings.
So, yes, Bob, there are banjo gods and they watch out for folks like you and me. ;-) OH… and yes, I DID CALL THE FACTORY, to have Barry help me tune my banjo since I only had one more chance….
OK, Folks, it's sharing time. I know you all have GREAT banjo tales to tell. Please send them in to us so we can all laugh, cry, sigh, and sing the praises of life with a banjo.
Send them to carolinabridges@deeringbanjos.com.