The GRAMMYS® are this Sunday and 10 Deering Banjo artists are up for awards. Mumford and Sons is even up Record of the Year! Be sure to watch them on CBS this Sunday, February 10th. Mumford and Sons will be performing as well!
Read More [fa icon="long-arrow-right"]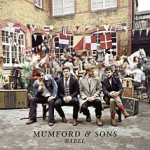 The 55th Annual Grammy Nominations are out and artists who play Deering banjos are heavily represented - including one of the biggest categories of them all, Album of the Year!
Read More [fa icon="long-arrow-right"]