Deering Banjo Company and Elderly Instruments of Lansing, MI, have always exhibited an unwavering support of the Bluegrass community. Together they have decided to offer Deering's 100,000th milestone Sierra banjo up for special auction with all proceeds going directly to the IBMA Trust Fund!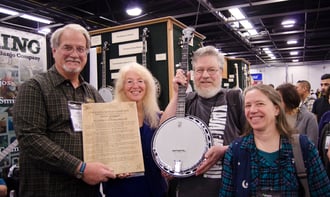 In 2014 Deering Banjos achieved a milestone in banjo manufacturing history, building their 100,000th banjo! To commemorate this it was presented to longtime friend Stan Werbin, owner of Elderly Instruments, who has been a dedicated Deering Dealer for 40 of Deering Banjos 41+ years. The 100,000th banjo is a Sierra, a long standing flagship in the Deering line, custom chrome plated and engraved with "100,000" on the armrest. It is accompanied with a letter of authenticity signed by Janet & Greg Deering!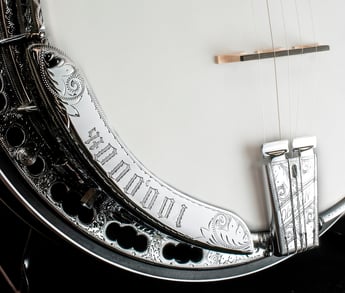 As Stan says: "This special banjo is too nice of an instrument to sit any longer in our display case, so we think it is time to make it available to the general public. Because it is the 100,000th banjo made by Deering we felt it only right to give everyone a fair chance at it. And what better to do with the proceeds than to donate the money to the IBMA Trust?"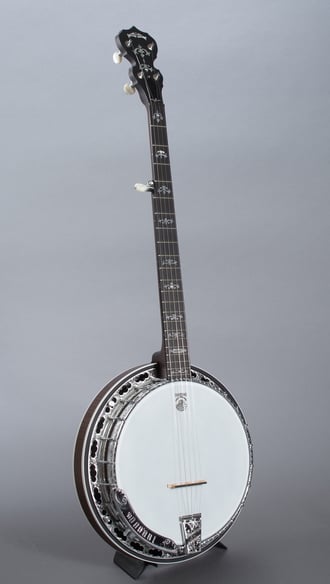 Many may not know exactly what the IBMA Trust is; how long it has been around and the significant work it has done. The Bluegrass Trust Fund (the "Trust") was established in 1987 as a means to offer financial assistance to bluegrass music professionals in times of emergency. Many times the fund is called on for medical emergencies, at times of death, natural disaster or other hardships. Since 1993, the Trust has given out nearly $600,000 in relief assistance to bluegrass music professionals.
Patterned after similar entities in the music world, the Trust is a 501(c)(3) nonprofit charitable institution governed by an autonomous five-person board of trustees appointed by the International Bluegrass Music Association. This means your donation in winning this banjo auction will be tax deductible.
The trustees are responsible for, and take great care of managing the Trust, including accepting donations and making decisions on the disbursement of funds to those in need.
An important aspect to take to heart is that the funding for the Trust primarily comes through IBMA's Wide Open Bluegrass Festival (formerly Bluegrass Fan Fest) and donations from individuals. That means your purchasing a ticket for Wide Open Bluegrass contributes to the Trust and is felt and appreciated by those who have been helped. Thank you to those who have attended over the years, and who will attend in future years.
Learn more about the Trust, how to contribute, who it helps and how to request grands or loans for assistance from it here.
Watch Jens Kruger playing this banjo in the Elderly Instruments showroom below!